Friday, June 27th, 2008
Dream season for Homan, Driggs
By Ryan Hines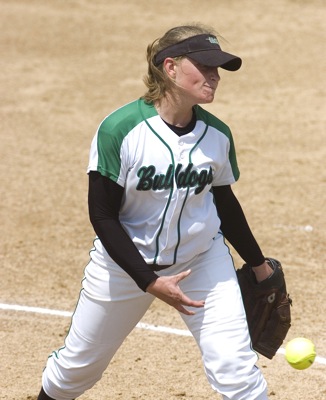 After completing the most successful season in Celina softball history, it didn't take much discussion to determine who earned The Daily Standard's softball Player and Coach of the Year.
Celina posted a 24-4 mark this year with a Western Buckeye League co-championship and went on to finish as the Division II state runner-up, the best finish in school history.
Laura Homan wrapped up a record-breaking career at Celina by being named the Player of the Year while Bulldogs head coach Nicole Driggs was selected as Coach of the Year after guiding the Green and White to the Division II state championship game.
Homan, who will continue to play softball next year at Hillsdale College, was nearly unhittable this season for the Bulldogs on the mound, compiling a 19-3 record with a 0.49 ERA. The righthanded pitcher allowed just 10 earned runs all season long in 144 innings pitched while recording 222 strikeouts.
The 222 punchouts were a school record for a single season and Homan also holds the Celina career strikeout mark with 466. The 19 wins are also a single-season record at Celina.
"It felt awesome to break some of those records," said Homan. "I played with Melanie Heyne (who used to hold the career strikeouts mark at Celina) when I was a sophomore and I wanted to work hard to be as good as Mel was, because she was an awesome pitcher. I just worked as hard as I could to be as good as I could be."
Homan wasn't just good on the mound for Celina as the lefthanded hitter batted .460 this season to go along with 24 runs scored, 12 doubles and 17 RBI. Homan also holds the school record for batting average in a season when she hit .561 last season as a junior.
"Whether I was pitching or at the plate, I just wanted to do whatever I could to help my team win," said Homan. "To be named the best softball player in an area that has such good softball is an honor."
Despite being named WBL Defensive Player of the Year, all-district and all-Ohio, it is the team achievements that makes Homan feel the most pride. Celina won a share of the WBL crown with Bath and won sectional, district and regional titles before finishing second in the state to Canfield (6-0 defeat), the D-II state champ.
Celina had only gone to state in softball one other time, back in 1999 when the Bulldogs lost in the semifinals to North Canton Hoover, which went on to bring home the state title that year in Division I.
"I knew that we had potential to be a good team this year and I think the rest of the girls felt that way too. To work as hard as we did to get to where we did feels great," said Homan. "We worked hard in the preseason and things just started to click for us throughout the WBL season. Our confidence level just got higher with each win and I think that the wins over Shawnee, Defiance, Bath and Napoleon really helped us believe that the sky was the limit for us this year. It's still hard to believe that we finished second in the state, it's a great feeling."
Driggs had nothing but complimentary things to say about Homan.
"She has been a phenomenal pitcher and hitter for us since she's been playing varsity softball for us," said Driggs. "It will be tough to let her go, because she was our workhorse and her commitment and loyalty to our program is what sets her apart. Always knew that you were going to get 100 percent out of Laura every day. As good as a softball player as she is, she's an even better person."
The run to Akron for the state tournament for Celina came as a surprise to most after a 14-win season a year ago that included a 3-6 mark in the WBL. Celina returned some solid veterans in Homan, Allison Braun, Kinzie Gardner and Audrey Harner to build around, but the Bulldogs started three freshmen nearly every game.
Driggs' confidence in success for this season never wavered, though, as the team chemistry and senior leadership helped make the Celina mentor optimistic.
"The best thing about this team this year was the team unity and team chemistry," said Driggs, who also helped lead the Bulldogs to a WBL crown in 2006. "Everyone got along together really well and put the interests in the team first. I couldn't have asked for anything more from these girls. They worked hard and they had the drive to be really good. We stressed being unselfish and focused on the team aspect of the game, on and off the field. Team goals were the focus and we had a great group of seniors to help push the younger girls in that direction and they followed their lead."
Driggs felt that the win over Shawnee was a turning point for the Bulldogs during the regular season.
"The Shawnee game was really pivotal for us," said Driggs. "Shawnee is a really good team and when we beat them (1-0), it gave the girls the confidence and determination they needed to be successful for the rest of the season. After that point, the girls were strong mentally and physically and it showed in their play."
Driggs, who shared the WBL Coach of the Year award with Bath's Laura Ford, was modest about her contributions to the team, rather directing the praise toward her players.
"We had a well-balanced team with a lot of good athletes through our lineup," said Driggs. "The girls wanted it, believed in themselves and worked hard to achieve what they achieved. All of the girls contributed to our success this year and that's the most rewarding thing for a coach to see. We stressed team all season long and it was team that led the way."