Wednesday, July 9th, 2008
All revved up
Fort Recovery woman decides cruising on her cycle helps her cope
By William Kincaid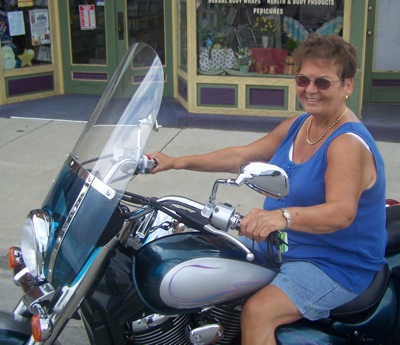 FORT RECOVERY - Call it fate or impulse - at 60, Diana Grile purchased her first motortrike.
"I always liked motorcycles, but I probably wasn't on one since I was 24 or 25," says Grile, former deputy director of the Mercer County Board of Elections and now part-time waitress at North End Bar & Grill in Fort Recovery.
Her new motortrike, which has one front wheel and two back wheels, has been a means of therapy for Grile, who lost both her husband and mother-in- in the past year.
In late April, Grile saw a husband and wife pull up to the bar on a Harley, reminding her of years ago.
"Oh, I used to love to ride," Grile says about being on the back of a bike in her younger years. But she quickly adds that she had never driven a motorcycle herself.
"I never wanted to - I never thought I could keep it on two wheels," she says.
Also during this past spring, Grile spotted a motortrike for sale while traveling to Redkey, Ind., to visit her ailing mother-in-law, Lena Whitacre.
"If it's there in two more weeks, I'm going to stop," Grile says she told herself about the bike.
Sure enough, the bike was still for sale. She stopped and eventually purchased it after one of her friends vouched for its quality and condition.
On May 24, Grile passed her permit test on her first try. The next day, she was on the road, learning how to operate the gears, which she describes as "hit, miss and stall."
"I never operated a cycle," Grile says. "I never thought I could handle the gears."
Grile continued practicing and eventually drove the bike 22 miles to Redkey for one of her daily visits to her mother-in-law. Grile says she pulled up to Whitacre's window and revved up the engine.
"She liked it," Grile says, adding Whitacre offered to pay for any speeding tickets.
Whitacre died on June 14.
Grile says finding her new bike may be an act of God. She now has a new hobby and coping mechanism. Her husband, Robert Grile Jr., a former driver manager at John Cheeseman Trucking, Fort Recovery, died on July 11, 2007.
One recent evening, Grile took her bike for a ride around the lake - which she calls an unexplainable experience of wind, nature and God.
"That helped me so much - I came home and I felt so much better," she says.
Grile already has driven over 800 miles on her bike. Her trips - which she describes as absolute freedom - are usually spontaneous, as she may end up anywhere from Coldwater to Versailles.
Besides having some minor difficulties when turning, Grile says she has acclimated to her bike well.
"I felt comfortable. I don't know, I just got it," she says.
Her new pursuit also has acted as a social network as she has met many other bikers. Although conversations may start about bikes, they soon turn toward other subjects, such as each others families.
She says her daughter, Denise Fullenkamp, was unsure of her new hobby, but has come around. Her son, Doug, was "all for it," she says.
And her grandchildren tell others, "My grandma's got a motorcycle."
Grile encourages others to follow their dreams.
"Just because you're (a certain) age doesn't mean you have to stop living."