Tuesday, July 1st, 2008
Packing up and sharing with the Dakota
Auglaize County residents donated to those in need
By Margie Wuebker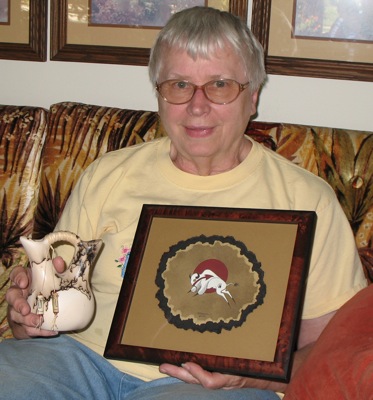 NEW BREMEN - Delores Stienecker might be called a bag lady in some circles, but to people at the Dakota Indian Foundation she is the smiling, gray-haired benefactor who comes bearing warm coats, gently used clothing and sturdy shoes in those bags.
Stienecker of New Bremen and her son, Mark of St. Marys, recently returned from a visit to the Dakota Indian Foundation in Chamberlain, S.D., leaving a sizable donation from the Auglaize County area.
"I couldn't fit everything into my Pontiac Grand Prix so I rented a minivan," she says with a chuckle. "And we still ran out of space."
Her association with the Dakota Indian Foundation began years ago after receiving a letter in the mail requesting support. She eventually checked out the foundation online and discovered it helps people throughout the former Great Sioux Nation.
The plight of the poverty-stricken Indians led to the establishment of the foundation in 1971 with a goal of helping them and preserving both history and culture.
"We have so much while the Dakota, Pine Ridge and Sioux Indians have so little," Stienecker says. "Some tribes across the country have lucrative casinos that bring in lots of money; these Indians live in the boondocks and do not have such moneymakers. They work but jobs in the area do not pay much."
She began sending coats, assorted clothing and blankets 12 to 13 years ago, paying shipping out of her own pocket for four to five boxes at a time. However, rates steadily increased to a point where the cost of sending just one hefty box totaled $20 or more.
"We made our first trip out there in 2006," Stienecker says of the 1,925-mile round trip. "I called ahead and eager volunteers came out to help us unload."
She also included coloring books as a special treat for youngsters on the reservation.
While there, the Stieneckers purchas-ed handcrafted items at a small store. Her son added another carved pipestone peace pipe and more horsehair pottery to his collection. She acquired a framed picture of a white buffalo - something she has wanted for a long time.
"The artist signed and dated the picture," she says.
Word of the June trip quickly spread among St. Marys' friends who responded by donating all kinds of clothing, bedding and other items left from garage sales, estates and recently cleaned closets. In order to conserve space, Stienecker neatly rolled all the clothing and packed the rolls into large plastic bags. Among the donated items were 89 pairs of sweatpants, 75 sweatshirts, 19 hooded sweatshirts,10 heavy sweater jackets and 77 miscellaneous shirts and blouses. She also packed 41 pairs of shoes into packages of six pairs or so.
"I loaded everything into the minivan," Stienecker says. "Then I filled the holes with four comforters, 25 coats and eight jackets. A neighbor showed up on the doorstep with a couple more pairs of pants. I shoved a little harder and miraculously everything fit. We had to use side mirrors because the rear view mirror was hidden from view. It gradually reappeared as the load settled."
Stienecker, a New Bremen village councilor, knows everything will be put to good use. Clothing not selected by tribe members becomes insulation to plug holes in the walls of their homes. Her contact at the reservation indicated nothing goes to waste.
"There is so much satisfaction knowing the people out there will be warmer this winter thanks to the generosity of people who donated clothing, shoes and blankets," she says. "It more than makes up for the cost of the gas."