Thursday, July 10th, 2008
St. Marys beaten in 11 innings by St. John's
Cavs cruise past Anna behind Wenning
By Gary R. Rasberry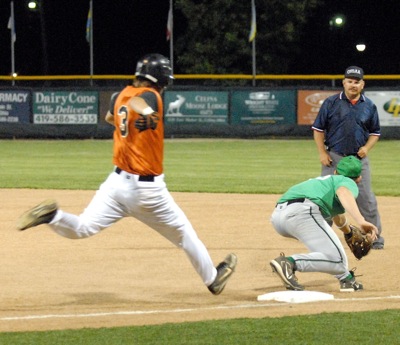 The first night of the District 4 ACME Baseball Tournament had several big pitching performances and one wild contest that seemed destined to go all night.
In the opening game, St. Marys saw a 3-1 lead disappear in the seventh. Then after the Roughriders took the lead in the top of the 11th inning, St. John's came away with two runs in the bottom of the inning to get the 5-4 marathon win.
The nightcap saw Coldwater and pitcher Keith Wenning work efficiently in beating Anna 8-1 to advance to the winner's bracket semifinals.
The Cavaliers (16-3) and Blue Jays (9-7) face off on Saturday at 11 a.m. St. Marys (11-9) and Anna (5-8) will play the first elimination game of the tournament on Friday at 6 p.m.
St. John's 5, St. Marys 4 (11 innings)
It looked like the offense was going to be limited to the first inning as St. Marys scored three times off Blue Jay starter Brandon Hemker. Jake Taylor singled in Aaron Homan with Sam Manning flying out to right to score Taylor. Trevor Kill later scored when Matt Watkins reached on an error.
After that, Hemker was nearly unhittable, giving up just two more hits over the final nine innings he pitched, walking five and striking out 14.
"That's what it took for him to get his feet on the ground," said St. John's coach Dan Metzger Sr. of Hemker's early jitters. "To get his ball to start dropping the way to get that curve ball to break. I can't say anything more. He's been the man for us on the mound all summer for some reason."
St. Marys starter Paul Pfenning was solid, allowing just an unearned run in the third inning and scattering three hits through six-plus innings.
"We started off like we wanted to start off," said Roughriders coach Russ Taylor. "We just went silent. The kids did a nice job. ... I think we let (Hemker) off a bit by chasing a lot of first pitches."
In the top of the seventh, Pfenning hit Jordan Leininger with a pitch, prompting coach Taylor to call on Homan to try and shut things down. The idea worked early as Homan promptly enticed Jordan Rode to ground into a 5-4-3 double play for the first two outs. Mitchell Maclennan followed with a walk and Joel Pohlman followed with an infield single. Hemker helped his own cause with a single to left to score Maclennan to make it 3-2.
It appeared the inning, and game, were over when Ty Bergfeld struck out but St. Marys catcher Matt Watkins was walking off the field and was told to throw down to first base as the ball hit the ground. The throw was wild, bringing Pohlman in to score tying the game. Homan ended the inning by getting Ryan Fischer to ground out to the mound.
"We made the change, which we've done all year, with Aaron coming in to shut games down," said coach Taylor. "I think a mental mistake is what cost us there. Pitch selection, great. Execution, great. We just lost track of what we were doing."
In the top of the 11th, Watkins drew a walk off Bergfeld, who replaced Hemker after he reached the maximum 10 pitching innings limit. Dustin Spaulding forced Watkins out at second but reached on a fielder's choice. Derek Roop doubled in Spaulding to make it 4-3.
Homan, who had struck out five and walked one in his first four innings of relief, was greeted by Chris Pohlman in the 11th with a triple. Leininger grounded to second, allowing Leininger to tie the game. After Rode struck out, Maclennan, 2-for-3 already in the game, doubled to right. Joel Pohlman followed with a single to left, just past the shortstop, allowing Maclennan to score his third run of the game for the win.
"Each of the last three innings we kept trying to break through and couldn't quite get it there," said Metzger. "We just kept hitting at it. That's all we could do."
"We got the run, I thought we were fine," said coach Taylor. "The next batter (Pohlman) comes up and hits a shot to right-center. There's nothing you can do about it. It's baseball."
Coldwater 8, Anna 1
Wenning, who has blossomed into an ace this summer for the Cavs, dominated the Rockets on the mound and at the plate. Wenning struck out 13 batters in six innings of work, including three innings of getting three strikeouts and striking out the last six batters - and eight of the last nine batters - he faced. Alex Geier struck out two of the three batters he faced in the top of the ninth to close things out.
"He's getting stronger," said Coldwater coach Romie Schwieterman of Wenning. "He wanted to finish, but we have to look down the road and give Nut (Geier) an inning on the mound. Wish we could have scored a couple early and had A.K. (Alex Kramer) out there for one. Very dominant. He wasn't missing high on some of his extra pitches (Wenning walked just one batter), he was around (the plate) with all three pitches. He pitched very well."
Wenning also hammered the Rockets at the plate, going 3-for-4 with two RBI and a run scored. Geier drove in three runs, two with a fifth-inning double that scored Wenning and Adam Rammel.
The Cavaliers scored twice in the first and second innings before being shut out for two innings. In the fifth, Coldwater plated three, two coming on Geier's double before adding a final run in the sixth.
"We were running the bases well," said Schwieterman, a reference to Coldwater's five stolen bases in the game. "We took advantage of little things out there, got a few extra bases with some timely hits.
"We hit a little lull there, like nap time in the middle of a couple innings. Then we tacked on three runs (in the fifth). That helped a lot."
The lone run for Anna came in the third when Brock Aselage reached on a single, then came home later in the frame when Kevin Heitman grounded into a fielder's choice.
The Rockets only got one other baserunner for the rest of the game as Wenning retired 11 straight before handing over to Geier, who gave issued a walk sandwiched between two strikeouts before enticing Barry Pletcher to ground out to end the game.
Chad Westgerdes and Bill Geeslin each added two hits each for Coldwater.