Saturday, July 19th, 2008
Mariners start second half with loss
Columbus plates six runs in top of first inning, win 11-8
By Gary R. Rasberry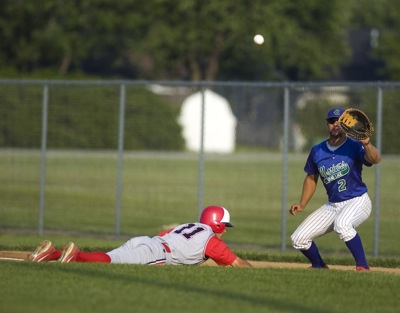 It wasn't the best way to kick off the second half of the season for the Grand Lake Mariners.
Columbus scored six times in the top of the first inning and chased Mariners starter Zach Taylor before the inning was complete.
After Grand Lake spotted the All-Americans 10 runs, Grand Lake made it interesting before Columbus finished with an 11-8 win at Jim Hoess Field on Friday. The Mariners drop to 10-16 on the season as the All-Americans move up to 14-10.
Columbus did a perfect job in the first inning of hitting the ball where Mariner defenders were not located. The first three All-American batters singled to start the game off Taylor. Just when things looked like it would not be as bad after Chris Roberts grounded into a double play, the All-Americans re-sparked the flames, as Zach Dygert singled and Robert Maddox doubled. Ben Klafczynski brought both runners in with a single to right to make it 4-0. Matthew Johnson walked and number-nine batter Jeremy Wentworth walked to load the bases for Zack Leonard at the top of the order.
"Sometimes after a break, you're a little sluggish at the beginning. That's kind of what happened today," said Mariners skipper Zach Schmidt. "We weren't walking people (Mariner pitchers issued just three in the game). They were hitting the ball. We had couple of opportunities with two strikes and they were able to put the ball into play, get hits and move people around."
Schmidt wasted no time in calling on Jordan Liette to try to stop the bleeding, but Leonard got his second single of the inning, driving in two runs before Hayden Johnston popped out to end the inning.
Versailles native Liette, save for a third inning where Columbus got four runs, shut down the All-Americans in his 72/3 innings of work, walking one and scattering three strikeouts
"We're very pleased with the effort Jordan gave," said Schmidt. "He came out and battled for seven-plus innings and did what he was supposed to do: throw strikes and get outs. He was able to keep them off-balanced. He did have that one bad inning, but he battled the entire game."
With Columbus slowed down, the Mariners looked to cut into the lead, scoring four in the third, two on Tom Fogerty's two-run triple, and two more in the fourth off Columbus starter Jeremy Williams.
The Mariners collected 12 hits off five All-American pitchers and had a rally going in the ninth trailing 11-7. After reliever Mark Miller got the first two outs, he walked three straight batters, with Fogerty's walk scoring Justin Brauer to make it 11-8. Miller ended the game by getting Mike Stalowy to pop to second to leave the bases loaded.
"It's tough to play from behind, getting down six runs in the first inning," said Schmidt. "We were able to bounce back and chip away throughout the entire course of the game. That's something we've been preaching, to keep playing the game and play for nine innings. Up and down the lineup, we did that today.
"You're never happy with a loss, but it wasn't a bad situation for us. We played good baseball past the first few innings."
The Mariners had plenty of chances to score, stranding 13 runners on base.
Fogerty had one of his best games of the season, going 4-for-5 with three RBI. Brian Suerdick added a 2-for-5 game.
Leonard paced Columbus with a 3-for-6 game with five RBI. Klafczynski went 3-for-5 with four RBI.
The Mariners have a full slate for the weekend, traveling to Athens today to play Southern Ohio in a 5:30 p.m doubleheader. Sunday sees the Mariners back in town for a rescheduled single game with Xenia at 2 p.m. It will be Veterans Day with World War II veterans being honored during the game.