Wednesday, July 2nd, 2008
Panthers, Redskins open tournament with victories
By Gary R. Rasberry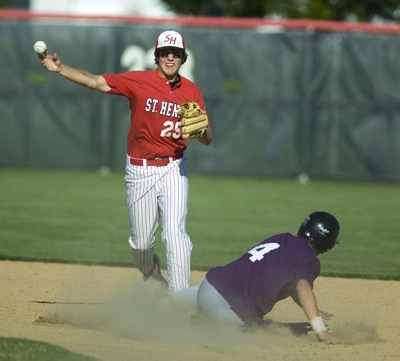 ST. HENRY - After splitting two one-run games in the regular season, it was a safe bet that the third meeting between Parkway and Marion Local would be one that came down to the wire.
In the end, Panther Jared Bourelle pitched his way out of several jams and out pitched Flyer Troy Prenger as Parkway won 3-2 in the nightcap of the opening night of the Mercer County ACME sectional at the Wally Post Athletic Complex in St. Henry.
Parkway (10-12) now plays top-seed Coldwater tonight at 8:15 p.m. in a winner's bracket semifinal.
In the first game of the evening, St. Henry, arguably the hottest team entering the tournament, won their seventh straight game, run-ruling Fort Recovery 14-0. The Redskins (11-11) face second seed Celina in the opening game tonight at 6 p.m.
Marion (6-5) awaits the loser of Celina-St. Henry on Thursday at 6 p.m. in an elimination game. Fort Recovery (2-10) faces the loser of Coldwater-Parkway on Thursday at 8:15 p.m.
Parkway 3, Marion Local 2
The second and third innings were the only innings that produced any runs, making for some strong pitching and defensive efforts over the last four innings of the contest.
Parkway scored twice in the second as Grant Ripley, batting in the nine-hole, singled in Chad Shellabarger and Cole Hamrick to draw first blood.
Marion Local came back in the top of the third. After Monte Imwalle singled and Jared Prenger doubled with one away, Nathan Thobe singled in both runs to tie the game. Marion had a chance to take the lead with runners on second and third, but Bourelle got a flyout and a strikeout to end the threat.
In the bottom of the third, Parkway got the game-winner across as Jake Jackson singled in Levon Archer with one away. Troy Prenger prevented any insurance runs by striking out Shellabarger and Hamrick to end the inning.
The rest of the game was a pitchers' duel. Prenger allowed just one more hit along the way, finishing with seven strikeouts.
"Troy pitched a great ballgame," said Marion Local assistant coach Frank Arling. "He had a couple of times where he got the ball up a bit, but he settled down and got it back into the strike zone. Kept his composure out there. The whole team did."
Bourelle retired the side in the fourth and fifth, but ran into serious trouble in the sixth. Jaren Griesdorn and Jason Wolters led off with consecutive singles. Marcus Moeller followed by lofting a fly just into the outfield that Panther shortstop Taylor Bates could not handle. Instead of the bases loaded, the umpires ruled that the infield fly rule was in play, calling Moeller out as the runners moved up. The call prompted protests from the Flyer bench and fans.
Bourelle added more drama, walking Jace Homan to load the bases, but Bourelle ended the threat with back-to-back swinging strikeouts by Jacob Arling and Troy Prenger to end the threat.
"I think it was the meat of (Marion's) order, if I'm not mistaken," said Parkway coach John Archer. "They've got an excellent team and it was good to see us step up and make enough plays to win tonight."
"Did we got a bad break out there? I don't know," said coach Arling. "We still had an opportunity with one out and second third. And we can't get them in. We still had our chances and it didn't work out."
In the seventh, Bourelle had bookend strikeouts with a great diving catch by Ripley in centerfield that denied Jared Prenger a base hit. Bourelle struck out nine and walked just two in the win.
"He made some great pitches. He was a pitcher tonight," said coach Archer. "He had some pitches up high and had the curve ball. Drew (catcher Drew Luginbill) did a great job calling the game. Jared didn't shake him off much. He did a great job and the defense stepped up."
St. Henry 14, Fort Recovery 0 (5 innings)
It didn't take long for the Redskins to put the game away, plating four runs off Indians ace Greg Kahlig in the bottom of the first.
"That was good for us to get four on him right away," said St. Henry coach Joe Wourms. "Get started on the right foot against a good pitcher like Kahlig. We all know what he's done before. He's one of the best in our league. To show we can come out and hit him is a very good confidence builder."
Then after adding three more in the second, the Redskins batted 12 batters in the inning, getting seven runs on eight hits off reliever Matt Braun. Cory Siefring drove in two with a double and pinch-hitter Jim Schwieterman singled in two more to close out the scoring.
That was more than enough for Redskin pitcher Chad Siefring, who fired a two-hitter to advance the Redskins. Siefring scattered two hits and two walks while fanning seven batters.
"Chad's been doing real well for us the second half of the year," said Wourms. "His last three outings, I think he's allowed two earned runs, which you can't ask for more than that. He did again tonight, pitched a real good ballgame for us tonight."
Jason Westgerdes was dominant in the leadoff spot, going 3-for-4 with three runs scored. Neil Schwieterman finished 3-for-3 with two runs and two RBI. Brad Kremer, Nick Rindler and Cory Siefring each added two RBI. Of the 11 players that had an at-bat, only pinch-hitter Adam Rinderle did not get a hit. Every player reached base at least once.
In going from 4-11 on June 23 to standing at 11-11 now, Wourms is happy his squad is catching fire at the perfect time.
"We're hitting the ball pretty well right now," said Wourms. "Hopefully we can carry that into tomorrow.
"No excuses, but we had some basketball camps, some vacations, typical summer baseball stuff. We finally got our whole team back playing ball at the right time."