Monday, July 21st, 2008
Coldwater falls to loser's bracket after split
By Gary R. Rasberry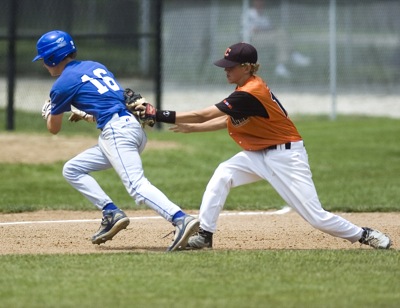 COLDWATER - The Coldwater ACME team will play on, but the road to a state title got a little tougher.
The Cavaliers dropped to the loser's bracket of the 2008 Lou Brunswick State ACME Tournament on Saturday, losing a 2-1 pitcher's duel in eight innings to Bath.
On Sunday, Coldwater recovered, but was taken to the limit by Anthony Wayne before recovering for a 4-3 win to send the Generals home for the season.
Coldwater (20-4) returns to action on Tuesday as they play the 8 p.m. game against Perrysburg. The Yellow Jackets lost to Patrick Henry 10-9 in winner's bracket action on Sunday evening.
Saturday
Bath 2, Coldwater 1 (8 innings)
After nearly a two-hour delay due to a heavy rain shower, the Cavaliers and Wildcats engaged in a solid pitcher's duel.
Coldwater's Keith Wenning was solid scattering three hits and four walks over eight innings while striking out seven.
"He deserved a much better fate," said Coldwater coach Romie Schwieterman. "Bath played a great ball game, too."
In the top of the eighth, after Jeremy Chandler was thrown out at the plate, Ryan Oaks blasted a double to the left-centerfield fence that scored both Drew Loudon and Johnny Simindinger to make it a 2-0 game.
"He's batted well all season for us," said Bath coach Ryan Reindel. "In that crucial time you don't know how kids will react when the game's on the line. ... He's been pulling his shoulder. We told him to stay in on the ball and drive it to the opposite. That's what he did."
Garver had an up-and-down game for Bath. While he walked 10 batters in seven innings, he allowed just two hits and struck out five.
Coldwater had plenty of chances to score off Garver, including two that would have ended the game in regulation.
In the sixth, Adam Rammel reached on a one-out walk and took second on a wild pitch. After Keith Wenning singled to move Rammel to third, Schwieterman called on Briar Miller to put on the squeeze as Rammel came home. Miller popped to catcher Chandler, then ran down Rammel and threw to Kevin Korkate at third for the double play to end the inning.
In the seventh, Rammel hit a one-out double. Bath then elected to walk Wenning to face Miller, who forced out Wenning at second on a grounder. Garver then intentionally walked Jordan Woeste to load the bases for Ross Forsthoefel. Garver ran the count full before getting Forsthoefel to swing at strike three to leave the bases loaded for the second time in four innings.
Korkate, who pitched in Bath's win over Bluffton in the district title game on Thursday, came on in the eighth to close things out, promptly striking out Aaron Rammel and Alex Winner.
Then Coldwater mounted what looked like the game-winning rally. Chad Westgerdes walked and Geier grounded to shortstop Matt Loudon, who bobbled the ball to leave all hands safe. Adam Rammel singled to right to score Westgerdes, but Geier could not come around thanks to a quick throw in by the Bath defense. Wenning took a ball, then flew to right to end the game.
The Cavaliers left 15 runners on base in the contest, including seven in the last three innings.
"Everytime they were on, we got plays," said Reindel. "Balls hit to the right spot. We played fundamentally sound."
"We missed some opportunities," said Schwieterman. "Sometimes, it felt like we were leaving 5-6 on base some innings. We just could not get that hit. We tried a couple of other things. We don't hit home runs, so we try to squeeze, we tried some things. It's what got us here."
Coldwater 4, Anthony Wayne 3
It was a back-and-forth game between the Cavaliers and Generals. Coldwater got two in the bottom of the first, only to have the Generals square the game in the top of the second. After Coldwater got a run in the bottom of the fourth, Anthony Wayne got the equalizer in the top of the fifth.
"Sometimes, it just seems like we can't stand prosperity," said Schwieterman. "Get up two, give it right back. ... Next inning we score and give it back."
Cavalier pitcher Colin Paynter worked hard to keep the Generals off base. Paynter lost a no-hitter in the top of the fourth after Anthony Meyers reached on a walk and Chris Meinhold hit a grounder to the right side that hit Meyers, making Meyers out but allowing Meinhold a single.
Coldwater took the lead once again in the bottom of the sixth. With one away, Alex Kramer reached on a dropped fly in centerfield. Chad Westgerdes followed with a single down the left-field line. Kramer was thrown out at third trying to get another base, but Westgerdes made it to second. After a wild pitch, Tony Harlamert beat out a throw to first for an infield single, allowing the speedy Westgerdes to score making it 4-3.
Paynter got the first out of the seven with a strikeout of Patrick Gray, but walked Jordan Chipka. Schwieterman wasted no time in calling on closer Geier to end the threat. Geier added several gray hairs to the coaching staff by walking Brock Cousino, but the threat was ended when Anthony DeThomas grounded to Wenning, who moved to short when Geier went to the mound, and then quickly tapped second and threw to first for the double play.
"Sometimes we wonder why we can't just win an easy one. They're killing us," said Schwieterman with a grin.
"It's a nice way to finish. The kids earned it. We're down to five (games for a state title)."
Harlamert was 3-for-4 and drove in three runs. Westgerdes also had three hits, adding a triple to his double and single.