Tuesday, July 22nd, 2008
Wearing the Celina Lake Festival crown
By Betty Lawrence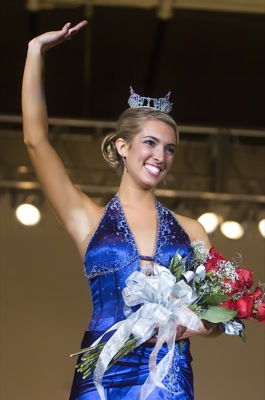 Ellen Bryan, 19, of Celina, will reign over this weekend's Celina Lake Festival after being crowned Miss Lake Festival 2008 at Monday's pageant.
The packed crowd at the Celina Fieldhouse cheered on 11 contestants throughout the evening of competition.
Bryan captured the judges' attention as she sang "The Life of the Party" for the talent portion of the contest. This portion of the pageant makes up 35 percent of the judges' tally.
A graduate of Celina High School and a current student at Ball State University, she is the daughter of Kent and Virginia Bryan, Celina.
First runner-up Sarah Pierstorff also was first runner-up in last year's pageant. Her talent performance consisted of an operatic vocal, Mozart's "Queen of the Night Aria."
Pierstorff, 18, is a graduate of Celina High School and is the daughter of Eric and Jodi Pierstorff, Celina. She currently attends Wright State University.
Second runner-up Devon Stansbury, 18, is a graduate of Parkway High School, Rockford, and is the daughter of Marcia Ripley and Steven Stansbury. She performed a lyrical dance in the talent portion of the pageant.
Named third runner-up was Ashley Kanney, 18, who sang a jazzy number to "Orange Colored Sky." A graduate of Coldwater High School, she is the daughter of Bill and Kathy Kanney.
Two-piece swimsuits were worn by each contestant in the lifestyle and fitness division of the pageant. Bryan's suit was pink, and she selected a glistening dark blue gown in the final evening wear portion of the contest.
Private interviews that made up 25 percent of the judges' scores were conducted earlier in the day on Monday with on-stage interviews (5 percent) conducted before the audience. The talent portion of the contest accounts for the largest portion of the score, 35 percent, with evening wear, 20 percent, and swimsuit, 15 percent.
For her winning effort, Bryan received a $3,600 Miss Lake Festival scholarship. She also won the $600 Fred Thees interview award and the $300 on-stage interview award.
As first runner-up, Pierstorff received a $1,500 scholarship. She also was awarded the $600 Outstanding Talent award and the $200 People's Choice award.
The other finalists, Stansbury and Kanney, received $1,200 and $1,000, respectively.
Contestant Kelsey Wenning received the $500 Commitment to Excellence award.
Each non-finalist will receive $400 in scholarships. They were Megan Gerlach, Eryn Langenkamp, Brittney McGhee, Kyla Metzger, Megan Perkeybile and Brooke Shinn.
As Miss Lake Festival queen, Bryan now has the opportunity to compete in next year's Miss Ohio pageant.
The Miss Lake Festival scholarship committee awarded a total of $12,500 in scholarships to the contestants. The Western Ohio Education Foundation also is providing $4,000 in scholarships to participants who attend Wright State University-Lake Campus.