Friday, July 25th, 2008
St. Marys duo team up to honor Southworth
By Robb Hemmelgarn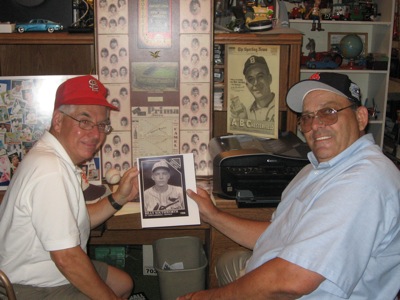 ST. MARYS - For those baseball fans under the age of say, 75 years old, the name of Billy Southworth likely carries very little significance.
So little significance in fact, that there is no indication that he lived all of his retired life in Sunbury, Ohio.
There are no signs hoisted on the outskirts of the corporation, nor are there any buildings in town or inscriptions on any water tower bearing his name. Southworth has long passed away, nearly 40 years ago, and it has been over a half-century since he last managed a team in the major leagues, so any recollection of his baseball exploits have been put to rest as well.
While his memory has all but faded in his hometown, Southworth will be the toast of Major League Baseball this weekend when he is enshrined into the National Baseball Hall of Fame in Cooperstown, New York.
Along with several members of Southworth's family, a pair of St. Marys men - self-proclaimed Southworth groupies - will make the 10-hour trek to eastern New York to attend the annual historic event.
Mike Lynch and Doug Brookhart have been silent Southworth disciples for decades, but it was not until a few years ago that they crossed paths and realized the unique passion they shared.
"When I was a kid, I lived in Newark and my dad would take us to Columbus on a regular basis and we would go through Sunbury," explained Brookhart from his St. Marys residence, which is home to his own private Southworth collection including pictures, baseball cards, programs, and other vintage memorabilia. "Why we went that route I have no clue, but I always remember driving by this beautiful, stone-covered home out in the country and dad would excitedly proclaim that it belonged to Billy Southworth. I never forgot his name, and over time as my love for baseball grew, so did my interest in Southworth."
Lynch's enthusiasm is more family-based, at least he likes to think so. While he proudly proclaims Southworth as his 'uncle', reality shows that he is cousins with Billy's great-nephew. For Lynch, the bloodline is close enough.
"I grew up in Carey and my cousin Ted (Southworth's great-nephew) lived in Columbus. We visited his family regularly as kids, and I remember him having a Billy Southworth jersey. It was sized down for a smaller kid, but it still had his name on the back. It was wool and sized down from one of his original game jerseys. I never had the opportunity to meet him, but over time I have always just been interested in his career," acknowledged Lynch.
Now that our local ties have been established, let's shift the spotlight on the man of infatuation himself.
Born in 1893 in Harvard, Nebraska, Southworth grew up in Ohio, and broke into the major leagues at the age of 20 when he took the field for the Cleveland Indians. Short in stature, but as feisty as a bull, Southworth logged time with the Indians, Pittsburgh Pirates, Boston Braves, New York Giants, and St. Louis Cardinals.
Highlights of his playing career included leading the National League with 14 triples in 1919 and then in 1926 when his Cardinals captured the World Series over the Babe Ruth and Lou Gehrig-led New York Yankees. During his career, which wrapped up in 1929, he punched a lifetime batting average of .297 with 1,296 base hits, 561 runs batted in, and 52 home runs.
"His career numbers as a player alone could have arguably put Billy in the Hall of Fame," Lynch pointed out. "However, his stats as a manager were phenomenal, and that is really where he gained his respect."
Southworth served as player/manager for the Cardinals in 1929, and then spent the next 10 years as a minor league manager in their farm system, where he helped to develop some outstanding prospects for the future.
He garnered a second chance in the big leagues with the struggling squad in 1940 and began to reap the rewards of his work in the minors. Almost immediately, St. Louis exploded into one of the most prolific dynasties in National League and club history, winning 106, 105, and 105 games from 1942-1944. They also captured World Series titles in 1942 and again in 1944.
In February 1945, Southworth's son, William Brooks Southworth, was killed in a military airplane flying exercise. The accident crushed the elder Southworth, but despite the heartache, he managed the 1945 Cardinals to a second-place finish in the National League.
The following season, he signed a lucrative $50,000 yearly contract for four seasons to run the Boston Braves. Under his tutelage, the Braves advanced to the World Series in 1948, where they lost to Cleveland in six games.
Southworth hung around Boston until the end of his career in 1951. During his managerial years, Southworth accumulated a winning percentage of .597, which is second all-time in major league history. He won nearly 1,100 games and led his teams to first-place finishes on four occasions.
After stepping out of the limelight of the major leagues, he returned to Sunbury, where he lived out his final years - and died - in near anonymity. Southworth succumbed to emphysema in 1969.
"Over the years, I have become more familiar with Southworth and his playing career and it is quite the remarkable story," commented Brookhart. "If you see him in pictures, you can just tell he was a scrapper who had to earn everything. He was not very big, but he just loved to hustle. I have one picture where he is the smallest person in the group, and he is covered in dirt and looks to have a broken finger or two. With everything I have read and studied, it just seems that is the type of player and manager he was."
With his bronze plaque displayed in Cooperstown amongst history's baseball immortals, Southworth will finally get his due.
For Lynch and Brookhart, they can only hope that Sunbury will soon follow suit.