Tuesday, July 29th, 2008
Romie helped lessen the grind of summer
By Gary R. Rasberry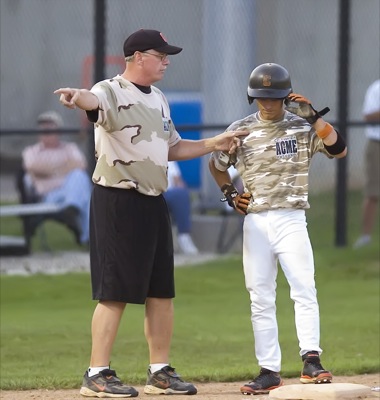 When watching the Coldwater ACME team the past few years, two things are a given.
First is that you'll see a very competitive team that has plenty of success.
The other is seeing the grin and hearing the humorous wit of Coldwater coach Romie Schwieterman, who stepped down as coach of the ACME Cavaliers after posting 191 wins over eight years and three state runner-up finishes in the last four years.
Whether a win or a loss, Schwieterman could find some humor. Whether quoting former Tampa Bay Buccaneers coach John McKay regarding his team's execution ("I'm all for it!"), using the line "Who are these guys?" from the movie Butch Cassidy and the Sundance Kid or chalking up a pitcher's fine performance to "Damn good coaching." Tongue firmly planted in cheek, Schwie-terman put his spin on the situation.
Schwieterman knows baseball, having earned All-Ohio honors playing at Coldwater before moving on to Bowling Green State University and signing as a free agent with the Chicago White Sox in 1976.
But rather than make the game of baseball a constantly serious situation, he tries to make the game fun for guys who sometimes have more important issues to worry about.
"Sometimes, and this season we dedicated the season to these guys (pointing to the initials BG and SB on his jersey, referring to former Coldwater ACME players Brady Geier and Steve Borger, who are both currently serving with the Ohio National Guard in Iraq), we tell them that's where the pressure is," said Schwieterman. "... We tell a few jokes once in a while to loosen them up. They're in so much things where there's stress and strain.
"We try to keep them loose and make them want to come out and have some fun. We always tell them 'You'll know when we're serious and when we're not.' "
Schwieterman tries to downplay his role, giving plenty of credit to longtime assistant coaches Matt Loughridge and Tom Brunswick as well as assistant coaches Mike Moorman and Craig Schwieterman, Romie's son, who came on board this season.
"We have a great crew. We pick each other's brains," said Schwieterman. "I'm not really head coach, I just yell the loudest."
Schwieterman is also appreciative of the support the Coldwater community has given and still gives to the program.
"Gary Geier (the state tournament manager) and his wife (Julie) ran this great tournament," said Schwieterman. "Ten guys running out here on grounds crew. It's just the whole community. Everybody blends together and gets things done.
"We have former players come back. We had Kurt Rammel come and work with the catchers. It's great to see these guys play for Coldwater and now they're coaching (like) Ryan Spriggs and Dave Buening (who coached the Junior ACME). That's what keeps the program going."
Schwieterman appreciates some of the friendships he gained and renewed each summer in coaching.
"Coaching against John Archer from Parkway. I graduated (the same year) with John," said Schwieterman. "And the Fortkamp doctors from Celina (Longtime Celina ACME coaches Ron and Don Fortkamp). (Umpires) Tony Stammen and Jim Runneals: we've played together and against each other. You make these connections. It's great, like a little summer reunion."
As for his plans once next summer comes around, Schwieterman couldn't help to get a final comment in about two of his favorite people, the Fortkamps.
"Now that they're putting me out to pasture, I figure I'll go out to pasture with Ron and Don Fortkamp and sit under that crabapple tree dedicated to them," said Schwieterman.
Said with a big grin, of course.

Romie's words of wisdom:
Some notable quotes pulled from the archives - the ones suitable for publication - from Romie Schwieterman over the years:

"For his age, he's done very well. He has to ride his bike over here, but we pick him up at the end of the bike path." - From June 5, 2006, referring to incoming sophomore pitcher Keith Wenning.

•••

"I thought we'd be fired up, but I think someone slipped some Ex-Lax into their chocolate bars or something, because we just kind of laid down there." - After a June 26, 2006 game with Fort Recovery, talking about a sluggish start.

•••

"Some people say that lefthanders are cheaters, but I say they're crafty, because I am one." - After Coldwater got beat by New Bremen southpaw Anthony Moeder in the 2007 ACME District Tournament.

•••

"We promised that if we won we'd take a charter to our state tournament. We're going to have Grand Lake Transit take us to Montezuma (and Lakefield Airport) and we'll fly down to Elm Street." - After winning the 2005 District title in St. Henry, allowing the team to advance to the state tournament, which was in Coldwater that year.

•••

"Sometimes when Sam is out there, you can almost sit in a lawnchair in between innings," - Referring to former Cavalier ace Sam Slavik.

•••

"I was looking for an ambulance or something to get one of those defibulators. I was going to lay each one of (the players) down and jump start them. We were just flat and dead. It seemed like we played two already. We needed to jump start them. We could threaten them with midnight running, it might help, and we did." - After sluggish start against Celina, which Coldwater won 17-8.

•••

"Take away the wind, it might have went 180 feet. To his advantage, when he was going down to first, he started talking and that put it the rest of the way over." - After Trent Gerlach belted a home run at Versailles in 2003.

•••

"Someone had a radar (readout) on the scoreboard at one place. Nut threw one and it had a question mark on there," - Referring to the speed - or lack thereof - of pitches from reliever Alex (Nut) Geier.