Thursday, July 3rd, 2008
Pitching, offense set tone for top seeds
By Mark Ruschau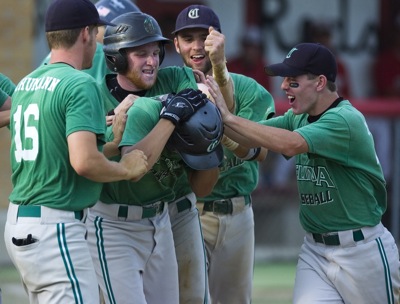 ST. HENRY - The Celina Bulldogs and the Coldwater Cavaliers each used great pitching performances and early offense to post wins Wednesday night in the winner's bracket of the Mercer County ACME sectional at the Wally Post Athletic Complex.
In the opener, the second-seeded Bulldogs got great pitching from senior-to-be Cory Pfeffenberger to beat the Redskins 10-1.
In the nightcap the top-seeded Cavaliers got a dominating pitching performance from their ace Keith Wenning to bounce Parkway 4-0.
Celina and Coldwater will now meet in the winner's bracket finals on Saturday at 12:15 p.m. with the winner getting a district berth. St. Henry drops to the elimination bracket and will play Marion Local tonight at 6 p.m. In the second game of tonight's doubleheader, Parkway will take on Fort Recovery at 8:15 p.m.
Celina 10, St. Henry 1
In the opener, Pfeffenberger was dominating without being overpowering as he allowed just one run on five hits as he walked just one batter and struck out three.
The Celina defense came up big for its pitcher as the Bulldogs did not commit an error as Pfeffenberger induced 11 ground ball outs, including a double play.
"Cory did a great job on the mound tonight considering that St. Henry scored 15 runs last night," said Celina coach Rob Howell. "He did a great job of throwing strikes, keeping the ball down and keeping them off balance.
"Cory did a great job of throwing strikes and that is something that we have preached to our pitchers this summer," continued Howell. "He was able to throw strikes with confidence because he knew he had a solid defense behind him and they did the job for him."
Celina gave Pfeffenberger all the run support he would need as it scored five times in the first inning. Brian Brockly reached on catcher's interference to start the inning, stole second and scored when Kahl Knapke's infield base hit was thrown away by St. Henry pitcher Jason Westgerdes. Darin Waterman then walked and Jeremy Kerr had a bunt single to load the bases and Josh Leonard unloaded them as he took a 2-2 pitch from Westgerdes over the fence in left to make the score 5-0.
"We did not have a strikeout tonight offensively and that is something we have been working on the last three days," said Howell. "Josh Leonard had a great day at the plate and we were able to score some runs early."
Coldwater 4 Parkway 0.
Wenning was the story of this one as he totally dominated the Panthers. On the night, Wenning scattered three hits in posting the shut out. Wenning walked four, hit a batter and struck out 15, including at least one batter in every inning.
Parkway did a have a couple of scoring chances early and failed to cash in. In the first, Joe Dellinger doubled and Levon Archer walked, but Wenning got Drew Luginbill and Jake Jackson on strikes to end the inning.
"Keith pitched a hell of a game tonight," said Coldwater coach Romie Schwieterman. "We were kind of leery to run him back out there after the half-hour lightening delay but he is a big strong kid and he did a great job of closing out the game."
"We really could of used those runs in the early innings but we just could not come up with the big hit when we needed it," said Parkway coach John Archer. "You have to give all the credit to Keith Wenning, he pitched a great game, he was on tonight and did a great job of keeping us off balance.
In the second, Chad Shellabarger single to start the inning but was picked off first. After Cole Hamrick struck out, Jared Bourelle singled but Grant Ripley struck out to end the inning.
On the offensive side, the key for Coldwater was the ability to come up with the two out hit as they plated all four of their runs with two outs.
The Cavaliers scored the only run it would need in the bottom of the first. Adam Rammel doubled with two out and game home on a double by Wenning.
"Keith is a lot like a golfer: the harder he swings the bat the more he slices the ball," said Schwieterman. "What he did was shorten his swing, make contact and put the ball in play."
The Cavaliers had another run in the second as Jordan Woeste singled, stole second, went to third on a Tony Harlamert sacrifice and scored on bounce out by Alex Winner.
"The young kids in the line up, like Alex Winner and Jordan Winner, did a good job of executing what we wanted them do offensively," said Schwieterman.