Wednesday, July 30th, 2008
Campgrounds full for Auglaize fair
By Janie Southard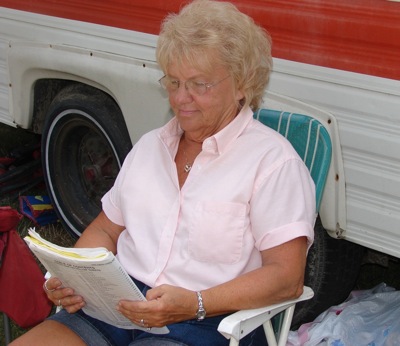 WAPAKONETA - Five Schneider family campers are among the 345 others that have completely filled the Auglaize County Fair campgrounds this year.
And the campgrounds already are full for next year's fair, according to Fair Manager Fred Piehl, who said the fair board is considering adding another 50 spots for next year.
"We started out with about 60 spots and in 2000 enlarged it to 200; and then over the years to the 350 we have now ... We now have a heck of a demand," Piehl said. "There are about 1,500 people here on the first day to camp and they stay all week."
Rural Wapak resident Ruthelyn Schneider, 65, has been a camper at the past 30 Auglaize fairs and now brings the camper for her children and grandchildren to use at night.
"I come back here to sit and relax between the events my grandkids are entered in but my house isn't very far away so I go home at night ... But there's a grill here and we cook hamburgers and hot dogs and so forth for any of the family who comes by," said Schneider, who retired six years ago from Goodyear in St. Marys.
It does seem a little cooler back in the trees where the grounds are nestled where Schneider likes to "people watch." And with the constantly growing number of campers every year there's no end of passers-by.
Like everything else, the cost has gone up for the camping spot.
"I think we paid $25 the first year and now it's $120 for the week ... Oh yes, we'll be back again next year. I guess I'll be here every year until I die," she said, adding she estimates 24 immediate family members are camping somewhere on the grounds this year.
The campsites are on a renewal contract. A notice will be sent in January to this year's campers letting them know it's time to send in their money for the 2009 fair. If they're not coming back, the waiting list comes into play.
"We have quite a waiting list," Piehl said.
His favorite aspect of the camping is that it's a family affair.
"We have security patrols around the clock, and it's very rare we have any problems back there," he said.