Thursday, July 31st, 2008
Mariners polish off the Locos
Grand Lake sweeps the four-game season series over Lima
By Ryan Hines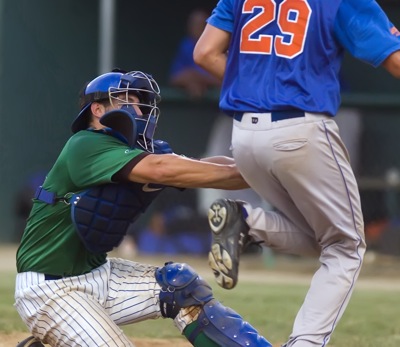 Don't tell the Lima Locos that the Grand Lake Mariners are the worst team in the Great Lakes Summer Collegiate League.
Grand Lake ended an eight-game losing streak with a 4-3 win over Lima in 11 innings as the Mariners swept the four-game season series from the Locos.
In what has been an otherwise miserable summer for Grand Lake (12-27), a season sweep over rival Lima may just be what keeps the Locos out of the postseason. Lima is 17-20 and must win its final three games to have any shot at the GLSCL playoffs.
"I don't think that it's any secret that we've really struggled this season, but it's nice to see the guys go out there and still play hard for a win like this," said Mariners manager Zach Schmidt. "There was some more energy in the dugout tonight that we haven't had a lot this season but we have played well against Lima all four times this season."
There was no shortage of smiles in the Grand Lake dugout after Trevor Willis brought home the winning run in the bottom of the 11th inning with two outs. Willis, who was 0-for-3 in the game with a trio of strikeouts prior to the 11th inning, lined a single to rightfield scoring Brian Suerdick for the walk-off Mariners win.
"I think sweeping our rival team is a positive we can take away from this season," said Willis. "We were thinking about that (coming into the game), in that we were seeing how we could get a plus out of the season."
"It was a pretty exciting game with it being against our rivals and it going extra innings with us having a shot to sweep the season series from them," said Suerdick, a two-year Grand Lake Mariner. "When I first got here last year, it has always been about beating Lima and that's the way it was tonight for us."
Grand Lake rallied from 1-0 and 3-2 deficits in a rollar-coaster game that Lima could never quite finish. The Locos led 3-2 with closer Tyler Burgoon on the mound with two outs and the bases loaded, when a passed ball by Alex Schmid allowed Mariner Ryan Frazee to race home with the tying run.
The game remained tied at 3-3 until the 11th inning when Grand Lake got a two-out rally started with back-to-back singles by Frazee and Mike Stalowy. Willis then ripped a Jamarcus Jamieson fastball to rightfield for the Mariners win.
"I had some struggles in the some of the earlier at-bats and I was just trying to barrel the ball up," said Willis. "It was a fastball middle-in and I got the barrel on the ball."
"He started out slow for us, but he's one of the guys that has been working his butt off the entire summer to get going," said Schmidt. "For tonight's game to end the way it did with him getting the big hit was nice to see for him."
Grand Lake veterans Brooks Hunton and Stalowy didn't hid the fact that sweeping Lima is the brightest spot of a difficult season.
"One thing that I said to the guys before the game was that we could still take a positive out of a tough season by sweeping our rivals," said Hunton, a three-year member of the Mariners. "I told them that nothing would be sweeter at this point in the season than sweeping our rivals. Everyone had a good time tonight and it's sweet to sweep Lima."
"It's a good feeling to beat Lima once, but to beat them four times with the struggles that we've had this season is just an awesome feeling," said Stalowy, a two-year player for Grand Lake. "You hear about the rivalry from people all the time around here and things went our way against them this season. It's the high point in the season for us."
The clutch hit by Willis made relief pitcher Adam Goodpasture the winning pitcher of the game. Goodpasture, the third Grand Lake pitcher of the game, threw 2 2/3 innings of shutout baseball allowing one hit with a pair of strikeouts and no walks.
Frazee and Hunton each had three singles while Adam Gecewich singled twice to pace the Mariners' 13-hit attack.
Neiko Johnson and Schmid had RBI doubles for Lima while Sean Laird brought home the Locos' third run with a single. Johnson had two of the seven Lima hits.
Jordan Liette, who lasted just 1/3 of an inning allowing nine runs in his last outing, was brilliant on Wednesday, throwing four perfect innings to start the game for Grand Lake. Liette, a Versailles High School graduate, went 6 1/3 innings and allowed one run on three hits in his no-decision.
"I think that Jordan had a chip on his shoulder after his last outing when he didn't get out of the first inning, and he proved that he can pitch in this league with the outing that he had tonight," said Schmidt.
Grand Lake will wrap up the regular at home in the next two days. The Mariners welcome Anderson to Jim Hoess Field tonight for a 7:15 p.m. start with former Cincinnati Red Dave Collins on hand to throw out the first pitch and sign autographs for fans on Celina Insurance Group night at the park. The Grand Lake season finale will come on Friday with a home date against the Lake Erie Monarchs.

NOTES - The ballpark that the Mariners call home is called Jim Hoess field, named after Jim Hoess. Although Jim Hoess is deceased, his nephew Joe Hoess tries to make it to the park once a year and was on hand Wednesday night against Lima to watch the Mariners sweep the season series against the rival Locos. Joe attending the game is quite a feat considering that he is living Klogsan, Bangkok working for Asia Pacific Group World Inc. in Sheung Wan, Hong Kong. I think that it's safe to say that Hoess was the fan that traveled the most to watch a Mariners game this year.