Saturday, July 5th, 2008
Flyers, Panthers stay alive in tournament action
By Gary R. Rasberry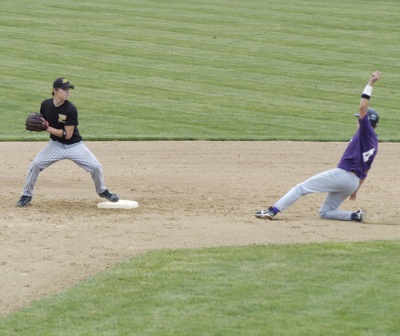 ST. HENRY - Although not planned, it was appropriate that the Fourth of July included some baseball.
With Thursday's Mercer County ACME sectional games rained out, four teams got an early start at the Wally Post Athletic Complex in a pair of elimination games from the sectional.
Marion Local and Parkway survive for another day as both teams send their opponents home for the season. The Flyers took advantage of six St. Henry errors in ending the host Redskins' season with a 9-2 win in the opening game. The second game saw Parkway jump out early and often, sending home Fort Recovery with a 14-1 decision in five innings.
The Flyers and Panthers open play this morning at St. Henry at 10 a.m. in another elimination game. The winner returns to play at approximately 2:30 p.m. against the loser of the winner's bracket final between top seeds Coldwater and Celina. The second game starts at approximately 12:15 p.m.
Marion Local 9, St. Henry 2
The Redskins jumped out early on Flyer starter Jason Wolters, scoring twice in the bottom of the first. Brad Kremer drove in Jordan Post with a one-out single, then later Nick Rindler scored on Jason Wourms' single.
Unfortunately for the host Redskins, that was all for them in the scoring department as Wolters buckled down and kept St. Henry from putting hits together. Wolters was around the plate all day, allowing nine hits, but not walking a batter, while striking out three. All nine hits for St. Henry were singles.
"Jason pitched a great ballgame," said Marion Local coach Frank Arling. "A little rocky the first inning, but he got into a groove going into the second inning, made some nice defensive plays out there. He got the strike zone going and was able to shut them down."
"Those nine hits, we couldn't put them together," said St. Henry coach Joe Wourms. "We kind of did in the first (scoring the two runs). ... But we needed to string them together a little more."
Errors came into play for the Flyers when the scoring began in the third inning. Two errors, both coming from second base, was a factor in the Flyers tying the game up. A throwing error allowed Travis Winner to score from second for the first run, with the tying run coming in Jaren Griesdorn singled in Jared Prenger.
In the fourth, A potential double play instead became three runs as another error kept all hands safe on Monte Imwalle's grounder up the middle. After Winner went to first after getting hit loaded the bases, Jacob Arling singled in Jace Homan and Imwalle to make it 4-2. Prenger followed up with a single to score Winner to make it 5-2
In the sixth, the Flyers added two more, again with errors from the second base spot playing a factor. Five of the six Redskin errors on the day came from a second baseman.
"Brad pitched a pretty good game for me," said coach Wourms, referring to starting pitcher Kremer. "If we make the plays behind him (only three of the seven runs Kremer gave up were earned), it's a different ballgame. We still might not win the ballgame, but it's definitely a different ballgame. It would have been nice, but that's the way it goes."
"St. Henry gave us some breaks and we were able to take advantage with some timely hitting," said coach Arling.
Homan went 2-for-3 to pace Marion Local. Prenger and Arling each drove in two runs.
Jason Westgerdes continued his hot hitting in the tournament, going 2-for-4 for St. Henry. Wourms also had two hits.
Parkway 14, Fort Recovery 1 (5 innings)
The Panthers put the game out in a hurry with six runs in the top of the first. Fort Recovery starting pitcher A.J. Backs lasted just four batters before getting pulled. The first six Parkway batters reached based before an out was recorded and 10 batters came to the plate.
After Fort Recovery got its lone run in the bottom of the first, Parkway scored four more in the second as the Indians had to make two pitching changes in the inning to get out of additional trouble.
Parkway was scoreless in the third, but scored three in the fourth and one more in the fifth to trigger the run rule. Panther batters had 17 hits in the game and every starter had at least a single.
"We hit the ball a little different than we did against Coldwater," said Parkway coach John Archer. "A little different pitching, but our guys stayed back and readjusted to the different speed and different pitchers."
Chad Shellabarger, Taylor Bates and Zach Bates did the work on the mound for Parkway. Shellabarger went the first three innings, allowing four Fort Recovery hits, one walk and a strikeout. Taylor Bates allowed a hit in his one inning of work while Zach Bates closed the game with a perfect fifth inning to end the game.
"They did a nice job," said Archer. "Hopefully we'll have everybody ready for tomorrow. ... We have to beat Marion first and that's not easy (Parkway holds the series lead this season 2-1, but all three games were decided by one run). They're always tough with us."
Drew Luginbill went 3-for-4 with three RBI. Levon Archer added a 3-for-5 game with two runs and two RBI. Grant Ripley and Joe Dellinger each added two hits.
Brady Kahlig went 2-for-2 for Fort Recovery.