Monday, July 7th, 2008
Flyers win two to join Cavaliers in district tourney
By Gary R. Rasberry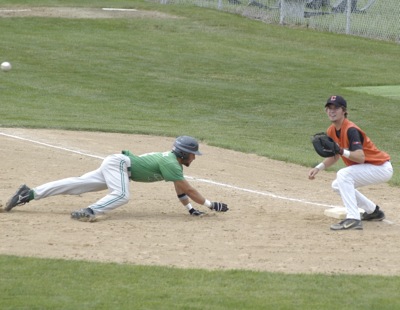 ST. HENRY - It was a daunting task for Marion Local on Saturday.
To get to the district ACME tournament for the first time in a number of years, the Flyers would need to win two games and eliminate two other teams from the Mercer County sectional tournament.
The Flyers soared like a Lear Jet as Jaren Griesdorn started the day by one-hitting Parkway in posting a 3-2 win, the fourth game of the series this season with Parkway that was decided by one run.
Then came a break to see who the Flyers would play: either top seed Coldwater or second-seeded Celina. For 61/2 innings it looked like it would be Celina, which took a 7-5 lead into the bottom of the seventh. Coldwater rallied to score three times in the bottom of the inning to earn a district ticket with an 8-7 win while sending Celina into an elimination game.
Marion jumped on the shell-shocked Bulldogs with four runs in the top of the first, only to have Celina tie the game. The Flyers, scoreless since the first, plated three runs in the top of the seventh to end Celina's season with a 7-4 decision.
Marion (8-5), already ensured a trip to the Celina District, returns Monday to the Wally Post Athletic Complex to face the Cavaliers (14-3) for the sectional championship at 6 p.m. If the Flyers win the first game, a second game will immediately follow.
The Flyers, who lost to Parkway 3-2 on Tuesday, staved off three elimination games over two days.
"I don't know the last time we made the district," said Flyers assistant Frank Arling. "The kids are excited, happy to be there. They knew coming in that this game (the Celina game) was a district game: They win, they're going to district. They're very happy about that."
Marion Local 3, Parkway 2
Griesdorn kept the Panthers baffled through the first 52/3 innings, not allowing a hit and walking just one batter and striking out three in the game.
That allowed the Flyers to manufacture runs in the third and fourth innings off Jared Bourelle, who beat Marion on Tuesday. In the third, Jace Homan led off with a single, but it looked like Bourelle would get out of the jam with two straight outs. Nathan Thobe broke the streak with a walk, followed by Griesdorn helping his own cause with an RBI single.
In the fourth, the Flyers got two more runs when a perfect squeeze bunt by Homan scored Tyler Thobe. Monte Imwalle later came in on an error.
The two runs came in handy as Parkway tried to even things up in the sixth. With two away, Taylor Bates was hit by a pitch and Joe Dellinger walked to bring up Levon Archer, who belted a shot to the fence in left for a double, the only hit Griesdorn allowed. Both runs came in to cut the deficit to 3-2, but Griesdorn enticed Drew Luginbill to fly to left and end the threat. Griesdorn then got a 1-2-3 seventh inning to eliminate the Panthers.
"We split two games in the regular season (with matching 5-4 scores) and split two in the tournament with 3-2 scores," said Arling. "Jaren pitches a one-hitter. Fantastic job. You can't say anymore about the pitching. That one hit scored a couple runs for them, but we were able to bear down and finish out the game and get the victory."
Coldwater 8, Celina 7
Coldwater committed seven errors in the contest, three coming in the fifth inning where the Cavaliers blew a 4-2 lead as usually reliable closer Alex Geier ran into trouble trying to get out of a jam that Colin Paynter got into.
But by the time Alex Kramer's one-out bases-loaded single scored, Jordan Woeste in the bottom of the seventh, all was forgiven.
Coldwater trailed 2-1 in the third, but took the 3-2 lead as Keith Wenning singled in Geier and Briar Miller doubled in Wenning. A pair of Celina errors - the Bulldogs had five in the game - scored another run in the fourth.
Paynter, who worked out of several jams, got into trouble again in the fifth, giving up a walk and a single. Josh Leonard grounded into what looked to be the start of a double play, but an error plated a run to make it 4-3.
Coldwater ACME coach Romie Schwieterman wasted no time in getting Geier in, who promptly enticed a flyout for the first out. Caleb Shreves followed with what looked to be a potential double play, but all hands were safe as the throw home to try and get Jeremy Kerr was late. Jared Bader followed with an RBI single to score Leonard to make it 5-4. Chad Schumann followed up by reaching on an error, scoring Shreves to make it 6-4 in favor of Celina. Bader tallied the final run of the inning after scoring on a groundout by Brian Brockly.
"Celina came back hard. I think our guys thought they were at a charity ball because they gave and gave and gave," said the ever-witty Schwieterman.
Celina pitcher Darin Waterman gave up a run in the sixth, but still had a two-run lead in the bottom of the seventh. Things fell apart early as Adam Rammel reached on a dribbler that Waterman bobbled. Wenning followed with a single to put two on and Miller made the score 7-6 with a single to score Rammel. Jordan Woeste was asked to bunt and pushed a perfect bunt single to load the bases.
"Between Matt (Loughridge), Tom (Brunswick) and Mike (Moorman), our assistant coaches, we're running different stuff back and forth and we were going to bunt for Jordan because he hasn't bunted quite as well," said Schwieterman. "I asked him and even he didn't think he could get one down. I told him 'You're a left-hander, aren't ya? Get your nose in there.' He did a great job."
Celina coach Rob Howell brought in Shreves to try and close things out, but was greeted by Tony Harlamert's single to tie the game and keep the bases loaded. Alex Winner tried a short shot to third, but Schumann threw home for the force and the first out of the inning. Alex Kremer, 0-for-2 in the game and was hit for earlier, came up and blooped a single over the drawn-in infield to score Woeste and end the game.
"We finally turned things around and the kids hung in there good," said Schwieterman. "We told them to go up there and hit good pitches and they did.
"They did everything we asked of them. I thought for one inning or so, for one of the few times this year, they weren't playing hard, Coldwater baseball. They were down on themselves and playing like they were down 10 instead of two or three. To their credit, they battled back. After the game, we took back everything bad we said to them."
Marion Local 7, Celina 4
With just a 45-minute break between losing in the seventh, Celina had to get ready for a rested Marion Local team. The shock of the first loss may have haunted Celina early as the Flyers plated four runs in the top of the first.
Celina worked its way back, chipping away against Flyers starter Monte Imwalle, getting single runs in the second and third innings, then tying the game at 4-all with two runs in the fifth. Marion brought on Marcus Moeller to get the final two outs of the inning, but gave up a two-RBI single to Leonard that tied the game.
"Give them credit, they came back," said Arling. "They kept chipping away get one, one, then two and all of a sudden, a tie ballgame."
Meanwhile, Cory Pfeffenberger settled down after the first, shutting down Marion. When the FLyers got to the fifth, Shreves came back in and got help when Nathan Thobe was thrown out trying to steal second, then enticed Jason Wolters to ground out for the end of the inning.
In the seventh, Marion got back on track, Jared Prenger led off with a bunt single off Hayden Heiby, who came in to relieve in the sixth. Nathan Thobe followed with a double to put two on and Griesdorn was intentionally walked to load the bases for Wolters.
Wolters promptly doubled to right-center, scoring Prenger and Thobe, with Wolters getting thrown out at the plate. After a groundout, Tyler Thobe doubled in Wolters.
Wolters, who got Friday's win over St. Henry, gave up three hits over the last two innings to get the win.
"We pitched by committee. Monte did a nice job. Marcus came in the fifth inning when we had to juggle around a bit. The kids beared down on a hot day," said Arling.
"It was a hard fought day," said Howell. "We played a couple of good teams today. To be honest with you, I made some poor decisions in the box. Game management was down. I didn't make the right moves at the right time. I'm taking both of these (losses) home in my hat."