Tuesday, July 8th, 2008
Wenning home run delivers sectional title to Cavs
By Mark Ruschau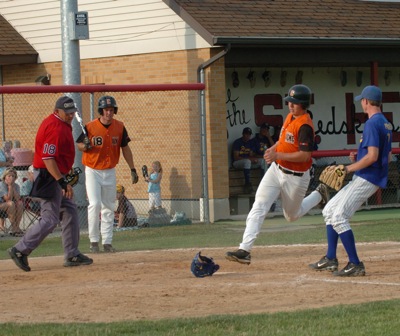 ST. HENRY - The Coldwater Cavalier ACME baseball team got big plays from veteran players Monday night to defeat the Marion Local Flyers 6-5 in 10 innings to capture the Mercer County ACME sectional title.
The biggest play of the night for the Cavaliers came from Keith Wenning, who took a 2-0 pitch from Marion reliever Marcus Moeller over the fence in the 10th inning to allow his team to rally for the third time and take their first lead of the game at 6-5.
Veteran pitcher Bill Geeslin then finished the deal as he set down the Flyers in the 10th inning to give his team the sectional title.
"Keith has been on a roller coaster from time to time this season," said Coldwater coach Romie Schwieterman. "We keep seeing this short fence over here and we kept thinking just let Keith get one in the air one time. He struggled tonight, there was one swing where he tomahawked on a third strike and he looked terrible, but he had a short memory and he nailed that one in the 10th. When he came around, I asked him why he did not do it a couple of innings ago."
"We played a great game tonight, we made a couple of mistakes we let them back in the game," said Marion Local coach Frank Arling. "Our kids gave a tremendous effort all night long. We pitched well, we played well against a team the caliber of Coldwater for the district title. We played 10 innings, someone had to win and someone had to lose. They had a guy hit the ball out of the ball park and we could not get a run in the bottom of the inning."
Coldwater (15-3) and Marion Local (9-6) will both play in the upcoming district tournament that begins on Wednesday as the Cavs and Flyers finished first and second in Mercer County to earn the district bids.
Marion took the early lead as it exploded for four runs in the first inning off Wenning, who started on the mound for Coldwater. Jarren Griesdorn, Tyler Thobe and Monte Imwalle drove in runs during the first frame for Marion.
Coldwater came back and tied the game with a four spot of its own in the third. Alex Winner beat out an infield hit, Ross Forsthoefel walked and Chad Westgerdes singled to load the bases. A bounce out by Alex Geier and an infield hit by Adam Rammel made the score 4-2.
A fielder's choice ground ball by Wenning made the score 4-3 and Wenning later scored the tying run when he went to third on a two-base throwing error trotted home after a wild pitch.
Marion retook the lead in the fourth as Troy Prenger walked, went to third when Jacob Arling's bunt single was thrown away by Coldwater catcher Adam Rammel and scored when Jared Prenger bounced into a double play.
Coldwater retied the game in the seventh as Forsthoefel walked, went to second on a wild pitch, to third on a Westgerdes bunt single and scored on a sacrifice fly by Geier.
"We have been down this season, heck we were done here last week against Celina and I think as long we don't get down too much that the guys think they can back it," said Schwieterman. "Everybody stayed together and we started to chip away and we got back in it. As long as we continue to remember that it's a seven-inning game and that we don't need to hit nine-run homers we will be all right."
The pitching of Geeslin was the subplot of this drama pitching nine solid innings of one-run, three-hit baseball. Geeslin walked just two and struck out 10.
"We told Keith and Bill that they would split the game up today pitching, but we did not tell Bill that in the fine print he was going to pitch nine innings and Keith was going to pitch one," said Schwieterman. "There were a couple of times where Bill really gutted it out. We told him a couple of times that we were going to take him out because he had thrown 70 pitches last Thursday, but he has good mechanics and he kept asking for another inning and we kept giving it to him."
Coldwater will open district play at Celina on Wednesday against Anna at 8:15 p.m. Marion opens district play on Thursday against Van Wert at 8:15 p.m.