Saturday, August 2nd, 2008
Homeowner goes wild over open space
By Betty Lawrence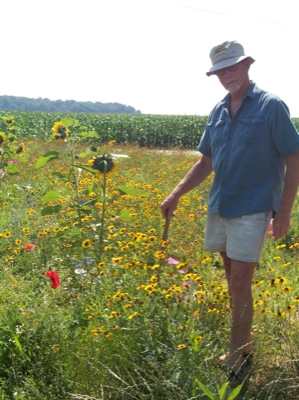 COLDWATER - Ron Westgerdes of rural Coldwater says converting a 1,500-square-foot section of his lawn into a colorful mini-meadow of wildflowers is "his little protest" to having to fill his mower with gas.
"I believe people should plant something like this meadow, instead of just mowing acres of grass because homeowners don't know what else to do with the land," he says. "It saves mowing time and money spent on gas for the mowers."
Westgerdes, 64, a retired Minster Machine employee, says his meadow has caused quite a stir. People driving by his home at 5245 Burkettsville-St. Henry Road often stop to look at the garden and some even ask him questions about the flowers, he says.
He recommends going to www.americanmeadows.com, a Web site that explains how to turn a lawn into a meadow.
Offered is a wide variety of wildflower seed packets, some of which are drought tolerant, others that draw butterflies and hummingbirds and yet another mixture that is for shade or for sun.
Westgerdes decided to be adventuresome and blended a mixture of hummingbird, drought tolerant and a fall seed mixture to come up with his own special blend of seed. The mixture will allow for colorful flowers throughout spring, summer and fall, he says.
"I worked up the ground and planted about one and a quarter pounds of the seeds late last fall after Thanksgiving, then I just used a lawn roller to pack them into the ground that I had worked up," Westgerdes says.
He decided planting the seeds in the winter, instead of in the spring, would let the seeds acclimate to the ground, which he feels helped produce the bountiful display of color this year.
On a recent warm summer stroll through the meadow, Westgerdes discovers Chinese pagodas, cosmos, baby's breath, crimson clover, a prairie coreopsis, evening primrose coneflowers, poppies, snapdragons, chicory, daisies and many more. He sometimes looks on the back of the seed mix bag to figure out a mystery plant.
"I'm new at this, but every day when I walk in the meadow, I look around and see something different. There's constantly something blooming and you soon learn what's a weed and what's not," he says.
A host of various butterflies and hummingbirds also have found the meadow, much to his delight.
When the frost is on the pumpkin this fall, he will mow over the meadow and let it nurture itself until the next growing season.
Some of the flowers are annuals and others, perennials, but he plans to let them all go to seed, ensuring a crop of flowers next spring.
"I've been pleasantly surprised by the many different flowers. I don't know why more people don't do this. It's a no-brainer," he says.