Thursday, August 7th, 2008
Celina businesswoman put on probation for not supplying purchased gravestones
By Margie Wuebker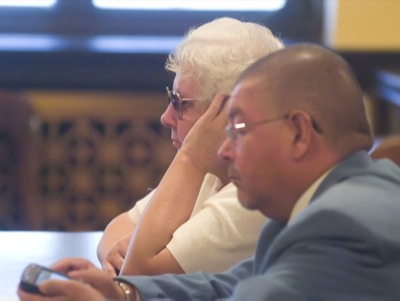 Mary Jo Pearson entered Mercer County Common Pleas Court on Wednesday afternoon staring straight ahead without so much as a glance toward former customers she bilked out of nearly $56,000.
The 67-year-old Pearson, owner of Pearson Memorials of rural Celina, was placed on five years probation for her guilty plea to 24 counts of theft by deception - 12 of them fourth-degree felonies, 11 fifth-degree felonies and one misdemeanor.
She deprived 24 customers of amounts ranging from $266.20 to more than $9,700 during a three-year period by accepting orders for monuments and grave markers without making delivery.
Along with five years supervision, Ingraham imposed a daily 9 p.m. to 6 a.m. curfew and ordered random alcohol and drug testing although commenting that neither substance appeared to be a cause for the offenses.
The judge also directed Pearson to work with a probation officer on the matter of $55,969.65 in restitution, with the amount due to 23 victims identified in the indictment as either John or Jane Doe and one victim who came forward later. A number of civil cases were filed earlier but those customers were not included in the current matter.
In the event Pearson violates the terms of her probation, she faces six months in prison on each felony count, with the time to be served consecutively.
After tearful comments from victim Jane Clune of Coldwater, Ingraham said, "I am sure your comments are echoed 22 or 23 more times."
Defense attorney Joseph Benevidez turned and apologized to the victims, calling Pearson's actions a classic example of "robbing Peter to pay Paul." She apparently pocketed the money to pay past debts and to help her son (Matt Pearson) doing business as Matt's Soft Water.
"This is a case of mismanagement," the attorney said. "This is not a case of someone living extravagantly like the CEO of a major company or the head of a financial institution. In hindsight, she was dealing with past debts and helping her son."
Pearson's husband reportedly established the monument business in 1965 and operated it until his death in 1994. She continued the operation from that time through much of 2007, with the grand jury indictment coming in September after a lengthy investigation.
"I'm deeply sorry for whatever happened," she said in a barely audible voice, directing the comments to Ingraham and not looking at the victims. "I got farther and farther behind. I am so sorry for what I did."
Pearson waived her right to a speedy trial during a late May appearance. At that time Ingraham cited the long dependency of the case which was put on hold after the defendant reportedly suffered a stroke and then entered a nursing home to recuperate.
Mercer County Assistant Prosecutor Matt Fox declined an opportunity to make comments, citing a plea bargain that prevented him from arguing at the time of sentencing.
"I traded my comments in order that the victims would have a conviction," Fox added, before bringing Clune forward to give a first-hand account of her experiences.

Victims tell of pain after deception:
Coldwater resident Jane Clune wept Wednesday afternoon as she told Mercer County Common Pleas Court Judge Jeffrey Ingraham how her grandchildren asked why grandpa had no tombstone like other people buried at St. Elizabeth Cemetery.
Clune is one of 24 victims included in a 24-count indictment charging theft by deception against former Celina businesswoman Mary Jo Pearson, owner of Pearson Memorials in rural Celina. After the victims' statements on Wednesday, Pearson was sentenced to probation and ordered to pay nearly $56,000 in restitution.
Clune told the court how she met with Pearson in August 2005 to order a monument for her husband, Paul L. Clune.
The blue granite model in the display room immediately caught her attention and she already had examples of special details to be etched into the smooth surface.
"My husband and I both like blue," she says, adding she had picked out a cathedral window design with praying hands in the front and an angel holding a scroll with the names of their children on back.
"Paul and I used to stop by the Pearson booth at the Mercer County Fair," she says smiling briefly. "Mary Jo was always nice and willing to answer questions. When the time came, I went to her and she let me down just like she did to all the others."
Clune placed the order and paid the full amount ($6,289.88) as requested with Pearson promising to have the monument placed by Nov. 2. The date came and went with nothing installed.
"There was no stable place to place mementos and flowers," she says with a sigh. "We couldn't even put a small tree there the first Christmas."
The gravesite remained bare on the first anniversary of his death as well as his birthday and the second Christmas. Pearson kept promising the monument would arrive, but it never did.
"The most heartbreaking event was on May 5, 2007, - two years after his death - when I, the children and grandchildren visited Paul's grave and there still was no monument," she says. "Three of the youngest grandkids asked 'Why do all these people who died after Grandpa have monuments and Grandpa does not? Did you not get one for him Grandma?' I explained the lady I ordered it from had not yet gotten it in. They asked why and I had no answer for them."
Clune made numerous telephone calls that went unanswered and repeated trips to the business on state Route 29, west of Celina, but no one came to the door.
A son went there in June to intervene on his mother's behalf, only to receive excuses without any results. Finally, there was no recourse except to contact the Mercer County Sheriff's Office and file a written report - one of 23 which led to a grand jury indictment.
Clune purchased another monument from a reputable dealer on Aug. 7, 2007, and it was placed at the grave seven weeks later as she recuperated from breast cancer surgery.
She still struggles with unanswered questions like "Why did you take my money and string me along when you obviously had no intention of getting the monument for my husband?" and "What did you use my money for?"
Three area sisters - Deb Gross, Teresa Griswold and Mary Conkel - have similar questions. They purchased grave markers for their sister Elaine Sparks and their mother Sonia Jacobs in the wake of deaths occurring within a three-month period in 2006. They paid $2,000 upfront as requested but the markers were never installed at Mercer and Resthaven memorial gardens.
"I went there and called there but Mary Jo always put me off with some excuse," Gross says. "Then she quit answering the phone. A recorded voice said no one was available and to call back later. I couldn't even leave a message."
It was difficult to find the graves once the grass grew.
"We set flowers where we thought Mom and Elaine were buried," Griswold says. "I thought something was fishy, but then none of us ever purchased them before."
In 2007, the sisters ordered new markers from another business, and installation came six to seven weeks later. Their father, Jim Jacobs, who feared they were being taken again, had an opportunity to see them before his March 1 death.
"I don't care if we don't get our money back," Gross says. "I just don't want to see her (Pearson) walking around as if she did nothing wrong."
- Margie Wuebker