Friday, August 8th, 2008
Harness racing a fair tradition
Jerry Bollenbacher has been speed office supervisor 19 years
By Shelley Grieshop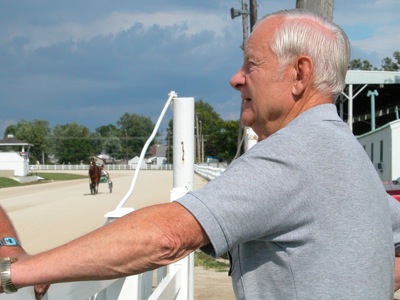 The distinguishable smell of horses fills the speed office at the Mercer County Fairgrounds, where Jerry Bollenbacher and his helpers busily answer phones and greet harness racing drivers.
Bollenbacher of Celina has been a fair board member and speed supervisor for nearly 20 years, and this is his busiest week. It's Thursday, the day before the fair begins, and time to accept race entries. Harness racing competition begins Sunday afternoon at the grandstand and he's the go-to man for the event.
"Oh, it's not so bad I guess. I've been doing this since '89," he says.
This year Bollenbacher is coordinating 53 horses and drivers in approximately 30 heats in a three-day span. A few of the overall purses this year are near the $7,000 range with individual winners coveting several thousand dollars a piece.
Harness racing is a popular spectator sport across the world as well as locally and nearly always draws a crowd at the fair. For competition, Standardbred horses are hooked up to two-wheeled buggies or carts known as sulkies, where the drivers sit for designated laps around the track.
Harness racing traces its origins to chariot races in Roman times and began more fully in the U.S. when people raced their horses home from church or other events for fun, according to equine history.
Dean Ward, a maintenance man for Celina East Elementary School, is in one of the horse barns, just a stone's throw from Bollenbacher's office. He just got off work and is busy grooming his 3-year-old horse, who he hopes can nab him some of the prize money.
"He's two for two and its only his first year," Ward says, explaining how "Miss Double Punch" recently took first place at the Auglaize County Fair and another at a track in Urbana.
Bollenbacher watches Ward take his horse around the track for a few laps. Although Bollenbacher has never sat low in a sulky with whip in hand, he did raise more than a half dozen horses over the years including a 2-minute trotter - a fast horse in his time, the 74-year-old says.
Bollenbacher has seen the local harness racing program grow tremendously the last two decades and sponsorship continues to be terrific, he says. Local merchants again this year came forward to make the event successful, he adds. During each race day this year, attendees will receive free tickets for a chance at numerous prizes including a 32-inch TV given away on Sunday.
If the weather holds - and so far it's looking great - the harness races should be spectacular this year, Bollenbacher predicts.
"We really hope people will come on out to watch the races," he says. "It's always a good time."