Friday, August 15th, 2008
ODA director: State should support ethanol
By Nancy Allen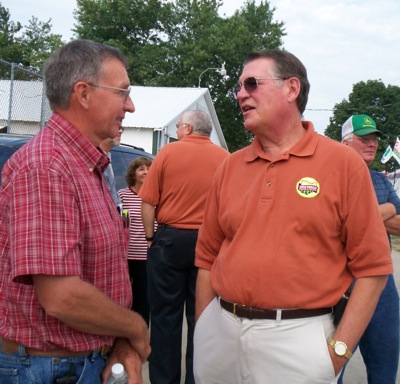 The director of the Ohio Department of Agriculture (ODA) said the state should continue to pursue ethanol as an alternative energy source despite continued high grain costs crushing many livestock producers.
The demand for corn for ethanol production has played a part in exploding corn and grain costs hurting livestock farmers. But most of the increase has been caused by higher energy costs, said ODA Director Robert Boggs, who toured the Mercer County fairgrounds on Thursday with local ag officials.
"We have to do something about our $700 billion a year petroleum addiction," Boggs said. "(Corn ethanol's) not perfect. We need to move more toward cellulosic (ethanol)."
He said the state also needs to look at other energy sources such as methane digesters which turn methane gas from manure into energy and also look at solar and wind energy.
The state's recently passed energy bill will allow more accessibility to the energy grid for these alternative energy generating sources, said the ODA director.
He added that, although 20 percent of Ohio's corn is being diverted to ethanol production, the state is producing 30 percent more corn than it did a year ago. The new ethanol plants going up in Ohio also are 30 percent more efficient than ones built 10 or more years ago.
"Just like petroleum plants, they weren't so efficient at first," Boggs said, adding that Ohio State University researchers are working with private companies to increase the efficiency of newer ethanol plants to 95 percent. Currently they are about 90 percent efficient, he said.
Continued advancement in bioengineering and large, permitted farms are necessary for Ohio to compete in the world economy and to continue to produce enough crops and food to meet demands, according to Boggs.