Saturday, August 16th, 2008
Pro bowlers enjoying the Coldwater experience
Tournament gets underway today at Pla-Mor Lanes
By Gary R. Rasberry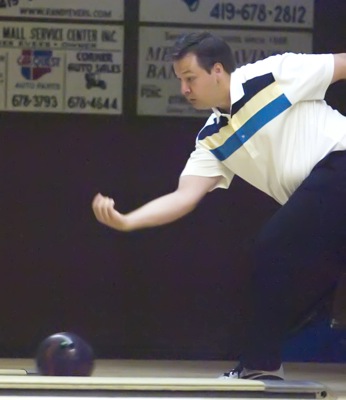 By GARY R. RASBERRY
grasberry@dailystandard.com

COLDWATER - The Village of Coldwater appeals to the pro bowlers that have come to compete for a championship.
Over 80 bowlers are gearing up to take part in the Lefeld Implements Classic, a PBA Central Regional tournament that gets underway today with qualifying and wraps up Sunday with round-robin and championship round play at Pla-Mor Lanes.
Many of the pros showed up Wednesday to take part in a scholarship golf outing and bowled with amateurs from around the area on both Thursday and Friday.
The reviews so far have been highly positive.
"It's been unbelievable," said Chad Kloss as he prepared to bowl in the junior pro-am. "The way we've been treated. This is my first year coming here and it's one of the best events I've been to."
Kloss also gave high praise to Pla-Mor and co-owners/hosts Rick and Liny Hartings.
"These are the events we like coming to," said Kloss. "They obviously put a lot of time putting this together like it should be. They did it right, that's for sure."
Doug Davidson did not have to travel far to get to Pla-Mor. Hailing from nearby Versailles, Davidson knows the lanes and the co-owners well.
"It's kind of nice," said Davidson. "I've been doing this for awhile. I don't bowl like I used to, but it's nice to be close to home. Rick and Liny did a nice job with this regional. I've bowled hundreds of regionals, this definitely ranks as one of the top ones."
Most of the pros playing in the Classic got in earlier in the week to take part in the golf outing that benefits the WOHSBC Scholarship Fund, then took part in a doubles tournament on Thursday before participating in a pair of pro-ams, an early one for young kids and one later for adults.
"I'm honored to be able do it," said Kloss. "I remember when I was a kid and I was bowling with Pete (legendary bowler Pete Weber, who also is in the tournament), the guys I'm competing against now. I know what it meant to me back then."
Davidson was glad to bowl with some of the local high school bowlers.
"That's one of things I really love about what Coldwater's done with the high school bowling program," said Davidson. "It branches out to other schools. I love to see it because when I was in high school, I didn't have that opportunity. Great to see the kids have that opportunity."
Some of the players even got a chance to get an extended visit around Coldwater during the week.
"Bunch of guys got to go out to see the town a little bit," said Kloss. "It's unbelievable."
Rick Hartings said that attendance for Thursday and Friday were solid, as the bleachers used during the high school bowling season were brought in for the fans. A large group was in force during Friday's junior pro-am.
"I think (the pros) are definitely enjoying themselves. Definitely the pro-am with the kids coming out like this, it's a good experience," said Hartings. "So far, we've heard a lot of compliments. We're expecting big crowds tomorrow, hopefully. We're enjoying it as much as the pros are."
Qualifying for the tournament gets underway with the first of three shifts starting at 8 a.m. this morning. The other shifts take place at 1:30 and 7 p.m. Action resumes on Sunday with round-robin finals starting at 10 a.m. with championship round play starting around 2:30 p.m. The awards presentation will take place Sunday at approximately 4:30 p.m.
Admission for all events is free, with a hog roast taking place all day Saturday starting at noon.