Monday, August 18th, 2008
Waliczek wins inaugural Coldwater PBA tourney
By Gary R. Rasberry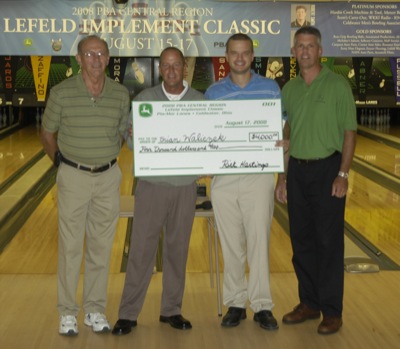 COLDWATER - After a rough start on Sunday, Brian Waliczek closed things out in style at the inaugural PBA Central Region Lefeld Implements Classic.
Standing in 10th place after the first half of match play, 61 pins out of the fifth and final spot to move on to the championship round, Waliczek went to work.
The Birch Run, Michigan resident concluded match play by just missing a perfect game and rising to second place going into the stepladder finals at Pla-Mor Lanes in Coldwater.
After knocking off Eugene McCune in the semifinal, Waliczek dominated the championship match, beating Jeff Zaffino 277-159 to win the $4,000 first prize and collect his third career regional title.
"I've been the bridesmaid a lot this year," said Waliczek after collecting the trophy and check. "I haven't won too many match plays. I've had good Saturdays. To be able to come out here to a great crowd and the fantastic tournament we've had out here in Coldwater, it's a big win for me."
Waliczek advanced to the 16-man match play after placing 12th in the qualifying rounds on Saturday.
"I started off the morning pretty much poor. I guess that would be the most appropriate word," said Waliczek. "We had a little break and my last eight games I caught fire."
After going 4-4 and recording 3,410 pins in his first eight matches, Waliczek roared to life in the final eight matches to decide the final five to move on. Waliczek went 6-2 in his final eight matches and knocked down a total of 5,638 pins. In his final match, Waliczek went to the final ball needing a strike to record a perfect game, but the 10-pin was left standing, leaving him at 299 but allowing him to climb to second place and giving him a two-game bye in the stepladder format.
"I had a lot of time to catch up on Robert Smith (who was second halfway through and finished third in match play)," said Waliczek. "I shot a big game, thank goodness, and went around him."
In the stepladder format, where the fourth and fifth seeds play first, with the winner meeting the third seed, then the winner of that playing the second seed before facing the top seed, McCune held off Dave D'Entremont 214-204 to move up and face Smith. In the second game, McCune started the match with six straight strikes, but Smith held on and recorded a 227. In the 10th frame, McCune started with a spare and needed just one pin to advance. McCune ended the suspense, getting the strike to record a 237 to face Waliczek.
Waliczek, even after a two-game break, kept hot, dispatching McCune 225-214 to advance to face top-seeded Jeff Zaffino in the title game. Zaffino entered Sunday the second seed and took over the top spot from Smith through the match play games.
Unfortunately, the hot streak was all for Waliczek, who started with three straight strikes while Zaffino recorded a spare and a strike before leaving a pin on the third frame for the open 9. Waliczek spared in the fourth, but then rolled off seven straight strikes before rolling an 8 on his final roll to finish with 277. Zaffino had just two more strikes in the match and had two open frames to get 159, earning $2,200 for second place.
"They put on a fresh condition (on the lanes before the finals), which is what I was bowling on this morning," said Waliczek. "I made some adjustments to play a little tighter up the lane. I chose a different bowling ball. I matched up well and was able to execute."
Waliczek was impressed with the tournament, thanking Pla-Mor co-owners Liny and Rick Hartings, their families and staff and sponsors for putting on a strong tournament.
"Most times, what makes a tournament successful is the people that are running it," said Waliczek, who noted that the crowds during the weekend were nearly double compared to some of the other regional tournaments. "You can have all the events that you have, but when you have good people involved that are running the event, it really works out."
Waliczek also is ready to defend his title.
"Soon as it's on the calendar for the regional tour, it will be on my calendar," said Waliczek.