Wednesday, August 20th, 2008
Celina, Coldwater take county titles
By Gary R. Rasberry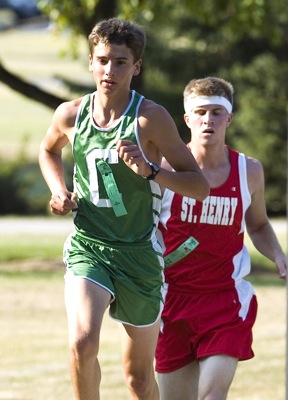 The Celina boys and Coldwater girls dominated the opening cross country race of the season as the two teams captured the titles at the Mercer County Cross Country Meet held at Wright State University-Lake Campus.
The Bulldog Boys put their first five runners in the top 10 to score 27 points, with Coldwater second with 52.
The Lady Cavaliers were even more efficient, taking five of the top seven spots to score 21 points with Marion Local a distant second at 60.
In the high school boys race, Celina's Andrew Goodwin jumped out to a hot pace and never looked back, crossing the line in the 5,000-meter race in 17:06. Teammate Mitch Williams was 13 seconds behind in second with St. Henry's Doug Ranly finishing third at 17:47.
"We've been training all summer," said Goodwin. "The team was ready. Race went pretty good. I went out pretty fast, but I just tried to hang on and keep it going."
In the girls high school race, Larissa Kohn engaged in a close battle with teammate Veronica Bruns and Fort Recovery's Tina Roessner for most of the course, but down the stretch, Kohn pulled away to cross the line in 22:07. Bruns was eight seconds back at 22:15 with Roessner falling back to third at 22:45.
"First two miles, I was feeling good," said Kohn, a wet towel around her neck. "The last half-mile I was like 'Am I going to make it through this?'
"My mom was running along the side with me and she was like 'Let's go.' It made me laugh to see her running. It pushed me."
In the junior high boys race, Fort Recovery posted a 1-2-3 finish to capture the team title with 17 points. Josh Pohl took first in the two-miler with a time of 12:45 with teammates Nathan Fullenkamp (12:53) and Derek Sutter (13:07) close behind.
Coldwater took the junior high girls race title by a 47-48 margin over Fort Recovery. Cavalier Christina Seas was nearly a minute ahead (14:19) of runner-up finisher Abby May of Fort Recovery (15:17).
Celina will see a number of local teams back on the WSU-LC course on Saturday for the Rotary Invitational starting at 9:30 a.m.