Saturday, August 23rd, 2008
Fort Recovery offense rolls over Ansonia in opener
By Mark Ruschau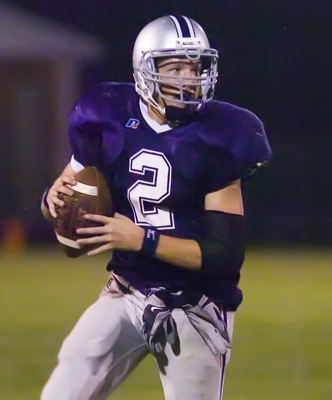 FORT RECOVERY - Going into Friday night's season opener against Ansonia at Barrenbrugge Park, everyone associated with the Fort Recovery Indians football team knew that the squad was blessed with quality skilled people, but the early questions center around a young offensive line and defensive units.
For one night, all is well in southwest Mercer County as the Indians put 24 points on the board in the opening period to drub the Tigers 48-6.
"One of the real positives is that we played physical the whole game," said Indian coach Brent Niekamp. "Actually, everyone we put in there played hard and hit hard and looked aggressive which we really loved, it showed that we knew what we were doing and we played with confidence.
"The one major negative was that we made too many mental mistakes and too many penalties which were covered up by our good play but we cannot continue to make those kind of mistakes as the season goes along," added Niekamp.
The Indians' offense rolled up gaudy numbers as they ran 54 plays for 353 yards. Junior quarterback Greg Kahlig had a great opening night completing 17-of-27 for 272 yards and five touchdowns.
Frank Thien had a strong night as he caught five balls for 108 yards and two scores while junior wideout Nathan Keller grabbed four passes for 71 yards and two scores in his varsity debut.
Senior running back Matt Braun added balance to the attack as he added 39 yard on the ground and 25 yards on two catches and a score.
"Some guys who made their first starts, like Nate Keller, made some great plays, some great catches," said Niekamp. "Michael Gaerke also had a couple of nice grabs and those are two guys that played junior varsity last year and it's nice to see them have a nice start."
While the Indians' offense rolled up nice numbers, the defense shined as well as they were able to shut down the Ansonia offense, with the only score coming off a special teams mistake.
The Indians held Ansonia to just 124 yards and seven first downs.
The Fort Recovery offense struck quickly as they took the opening kick and went 66 yards in just two pass plays, both from Kahlig to Thien, with the touchdown coming from 50 yards away just 39 seconds into the game. Mark Mattraw kicked the first of six extra-points to make the score 7-0.
After the defense stuffed Ansonia on three plays, the Indians' offense exploded again as they went 57 yards five plays with Kahlig hooking up with Keller for the score.
Fort Recovery scored twice in a span of 52 second late in the period to blow the game open. The offense scored first as they went 64 yards on five plays with Kahlig hooking up with Thien for the score.
The Indians' defense then came up big as junior linebacker Nathan Wendel picked off a Derek Bubeck pass and returned it 36 yards for the touchdown.
Fort Recovery takes to the road for the first time next week traveling to Oregon to take on Cardinal Stritch.