Monday, August 25th, 2008
Large crowd under sunny skies watch teen zoom to victory at regatta
By William Kincaid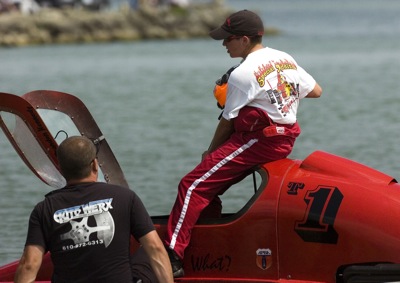 Thousands of race enthusiasts and local residents lined the shores of Grand Lake in Celina this weekend to watch 16-year-old Brandon Kennedy of Bear, Del., win the 2008 Governor's Cup Regatta.
Kennedy, driving the 1.5-liter "Shameless, Say What?," is the youngest competitor to ever win the Governor's Cup Regatta, Co-Chairman Tom Saddler said.
"He's a very accomplished racer," Saddler said.
Despite one accident on Sunday afternoon, Saddler said it was a great weekend of racing at the lake.
"It was incredible - the weather was perfect. Everything was almost perfect. You couldn't have asked for a better weekend," Saddler said this morning.
At around 4 p.m. Sunday, one of three 2.5-liter modified hydroplanes owned by Don Mashburn of Lafayette, La., got caught in the wind and blew over backward, Saddler said. The 2.5-liter modified boats reach speeds of more than 125 miles per hour.
The boat flipped back up, and a rescue team arrived immediately to remove the driver, who was shaken up but all right, Saddler said.
The boat was severally damaged.
Safety is a major priority of race organizers, Saddler said. In addition to an emergency team on Jet Skis, a pontoon trauma boat is situated close to the racing.
"They're never very far from the wreck if it happens," Saddler said.
Also late Sunday afternoon, a Grand National hydroplane - capable of reaching 150 miles per hour - nearly submerged in the lake, according to the race announcer.
Thom Heins of Marcus Hook, Pa., driver of the "Mas Epoxy," ran over a piece of material that fell off another boat in front of him. Although his boat began to take in water, Heins finished the race in second place.
Overall, 91 boats from 25 states attended this year's Summer Nationals event, the first time it was held on Grand Lake. The regatta committee originally estimated more than 100 boats, based on preregistration.
"It was less than anticipated ... but that's what happens when some of them have last minute engine problems," Saddler said, pointing out the committee was pleased with the turnout.
The turnout was still much higher than previous years; 65 boats competed last year.
When asked about attendance numbers, Saddler said the committee didn't have any concrete numbers yet but estimated it was probably bigger than last year, which drew 30,000 people.
"We had a very nice crowd both days," he said.
After the race on Saturday evening, a new crowd showed up to watch bands MC Blues and Country Mile perform along the lakeshore.
"That added a lot of people to the event," Saddler said.