Friday, August 29th, 2008
Parkway gets pushed to the limit by Fort Recovery
By Gary R. Rasberry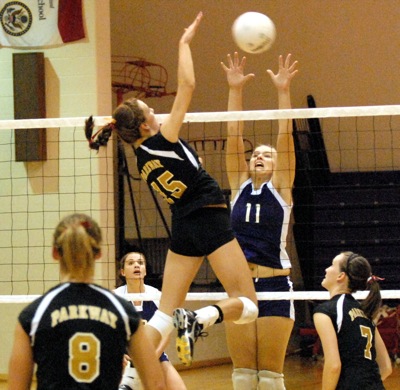 FORT RECOVERY - After two games with a number of unforced errors, Parkway and Fort Recovery got into the swing of things to make for an exciting five-game match as both teams opened Midwest Athletic Conference play at Fort Site Fieldhouse on Thursday.
Fort Recovery went up two games to one after taking game three 25-22, but the Panthers came back to force a fifth game with a 25-16 win in game four. In the rubber game, Parkway went up early, only to have Fort Recovery come back to tie things at 6-all before the Panthers worked their magic to take game five, 15-13, winning the match.
Both teams had issues in the first two games. Parkway committed 15 unforced errors as the Indians opened up with a 25-17 win. Game two, it was Fort Recovery's turn, committing 11 unforced errors.
"In the first two games, it was a matter of errors," said Parkway coach Jeff Marbaugh. "We made a lot of errors the first one, Fort Recovery did in the second one. Third game was good. Fourth game was good and fifth game was good. Lot of hustle on both sides. Both teams cleaned it up, they'll be in good shape." A possible reason for Fort Recovery's trouble with the flow of the game early on was the loss of Joanna Snyder, who was a late scratch due to injury. With Snyder an all-rotation player, Tribe coach Diana Rammel had to do some shuffling in the lineup.
"We put Chelsey Leuthold in there and she came out and played a tremendous game," said Rammel of Leuthold, who had seven kills on the night. "Wasn't sure what to expect because we had her playing another position. She came out and did a tremendous job. We've been playing all summer and all through the season so far with Joanna Snyder and despite the last-minute changes, I thought we played good. Maybe she would have been the difference, maybe not, but it's tough to lose somebody and not have plans for it.
"Our serve receive wasn't great, and it's hard to run our offense off of not-so-great passes. The setters were trying to force it. That's something we need to work on," added Rammel.
From game three on, both teams began to get into the flow. Parkway relied on big hitter Marian Bevington, who recorded 17 kills on the night while the Indians got big contributions from Kinsey Wenning, Nicole Pottkotter and Anne Koesters.
The Indians looked to have the momentum after taking game three with a late run thanks to the serving of Kelsey Wuebker, but Parkway immediately snapped the momentum to its side as Emily Crowell served the Panthers into a 5-1 lead, then saw Morgan Cron serve up six straight points with two aces to push the lead to 18-6. The Indians could not get closer than 19-13 before the Panthers won and forced game five, getting the serve on the coin flip.
Two Indian errors were matched by two kills from Bevington to make it 4-0 before the Indians got the sideout. With Wuebker serving, Fort Recovery came back with four straight points of its own to take a 5-4 lead before Bevington smashed a kill to tie things up.
Parkway was able to get a couple points at a time and looked prime to end the match as a net-ball by the Indians made it match point at 14-11. Fort Recovery came back with one last charge, getting the sideout and following with a kill from Wenning to make it 14-13. After a Parkway timeout, though, Wuebker's serve went long to end the match.
"I was happy my kids stuck with it," said Marbaugh. "That was one thing we struggled with last year."
"Good game to watch," said Rammel. "I think everybody got their monies' worth."
Cron recorded four aces for Parkway as Ashley Stose had a busy game defensively, recording 38 digs on the night.
Wenning paced the Indians with 14 kills with Pottkotter adding nine kills with 19 assists. Wuebker added 24 assists.
The teams have the possibility to face off on Saturday as both teams head to St. Marys for the Roughrider Invitational.