Wednesday, September 17th, 2008
Celina cruises by Kenton, 8-0
By Gary R. Rasberry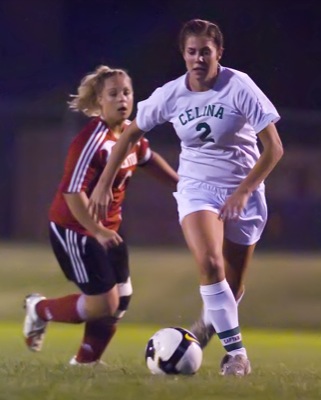 Celina peppered the Kenton goal all evening as the Bulldogs improved to 3-1 in Western Buckeye League girls soccer action with an 8-0 win over the Wildcats at the Soccer Stadium on Tuesday, the fourth straight shutout for the Bulldogs on the season.
The Bulldogs (6-2-1, 3-1 WBL) recorded 36 shots on goal, scoring four goals in each half and not allowing the Wildcats (1-8, 0-5 WBL) anything other than one shot on goal during the evening.
"It was a good opportunity for everybody to get a lot of playing time," said Celina coach Calvin Freeman. "Some of the girls who haven't had the minutes on the field got a great opportunity tonight.
"It was just a good game. I feel bad for Kenton, they suffered a lot of injuries this year."
Celina jumped out right away as Emily Pottkotter scored less than a minute into the game, signaling the flurry of goals to come.
At the halfway point of the first half, Lexi Mills took a pass from Tracy Donovan and put it past Kenton keeper Adrian Bailey at the 20:39 mark.
With under 10 minutes left in the half, Celina scored again, this time Hannah Fleck scoring with 9:17 left to make it 3-0. The final goal of the first half came with Courtney McKirnan taking a breakaway and scoring with 14 seconds before the intermission.
The second half saw a four-goal flurry in the span of just under 91/2 minutes. Donovan scored a goal of her own off a rebound with 14:23 on the clock to make it 5-0. With just over nine minutes left, Cayla Hellwarth scored to make it 6-0. Pottkotter added her second goal of the night with seven minutes left to make it 7-0 and Rachel Wright concluded the scoring with a goal at the 4:43 mark.
Kenton managed just one true shot on goal, that coming in the first half. Celina freshman keeper Elizabeth Laffin made the save but spent most of the match watching the Celina defense keep Kenton away from goal.
"The last four games, our defense has come together," said Freeman. "We have four shutouts in a row. I'm very pleased with our defense."
Celina is on the road Saturday at Bellefontaine before returning home Monday to face Elida.