Tuesday, September 2nd, 2008
Celina home has major fire damage
By Margie Wuebker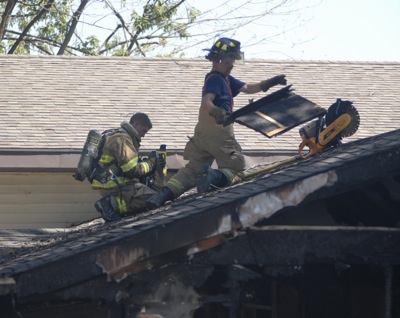 Fire heavily damaged the garage of a Celina home while the owners were away for the holiday weekend sparking an investigation into the cause.
Celina firefighters responded to the Robert Maddy home at 104 Fochs St. at 1:44 p.m. Monday after a passer-by spotted smoke and flames.
Flames were clearly visible when two trucks and 12 firefighters arrived on the scene. Their efforts focused on keeping the fire from spreading to the attached split-level home.
There may have been some fire damage to the attic, according to chief Doug Kuhn who had not been at the scene as yet. However, a moderate amount of smoke damage was reported in the living quarters.
A state fire marshal's inspector came to the scene and the cause of the blaze, which apparently started in the garage, remains under investigation.
Maddy reportedly has insurance to cover the loss although no dollar figure for damage has been set at this point.