Tuesday, September 23rd, 2008
Hellwarth goal, great defense carry Celina
By Gary R. Rasberry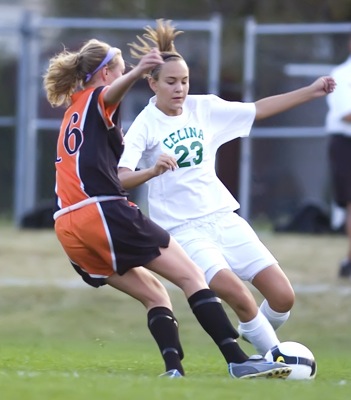 Celina girls soccer coach Calvin Freeman said it best when he said "Somebody that didn't come to tonight's game missed a nice, hard-fought ballgame" on Monday evening.
Cayla Hellwarth got the lone goal of the match with 8:20 left in the first half and the Celina defense made it stand up in winning the battle of Bulldogs over Elida 1-0 in Western Buckeye League action at the Soccer Stadium.
Celina's win, the sixth straight shutout, puts the Green and White at 8-2-1 overall and 4-1 in the league standings. Elida drops to 4-5 on the season and 3-2 in the WBL.
The Celina defense shined again as Elida was held to just seven shots on goal, three in the second half. Freshman keeper Elizabeth Laffin had just three saves, but handled the ball often after deep passes.
"She came into her own tonight," said Freeman. "If that didn't make her mature, I don't know what will, because she made some awesome saves, diving stops. She just did an awesome job."
The lone goal of the night came with 8:20 left in the first half. Courtney Mc-Kirnan passed the ball to a streaking Hellwarth in the box. Elida keeper Kaitlyn Morrisey came charging in to make a stop, but Hellwarth lofted a looping shot over Morrisey's head before Morrisey collided with her - earning the Elida keeper a yellow card for dangerous play. The ball went into the back of the net as Hellwarth was down for a short time after getting the wind knocked out of her.
"Cayla went after the one-on-one with the goalie. It was a great effort," said Freeman. "I'm not sure how that ball squirted through, but it did and it was what we needed."
Celina didn't stop attacking the goal, peppering Morrisey with seven shots in the second half. With 161/2 minutes left in the match, Emily Pottkotter fired a crossing pass to Hellwarth, but the chance for an insurance goal went wide of the net.
Elida attacked the goal more in the second half, but Laffin knocked down and stopped several attempts as Celina racheted up the defense.
"Elida put a lot of pressure on our defense," said Freeman. "They got a lot of speed up top. Our defense was able to hang through.
"It's just a great game to watch. I don't think there was a quiet time in the stadium. Great fan support. We appreciate everybody."
Celina returns to league action on Thursday, traveling to Bath.