Wednesday, September 24th, 2008
St. Henry girls edge Shawnee on tiebreaker
Redskins win first-ever sectional crown
By Gary R. Rasberry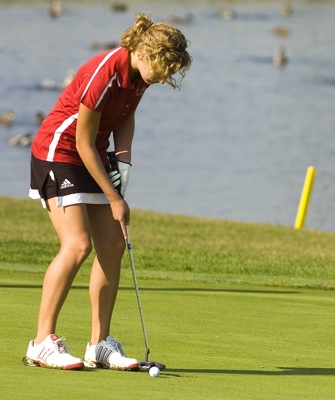 All season, St. Henry's girls golf team has been about the team effort.
Several players earned medalist honors during the season and seemed were all within a few strokes of each other in matches.
Why change a good thing in the Division II sectional at The Fox's Den?
The five Redskin golfers were separated by a mere 10 strokes, with fifth golfer Kendra Rindler providing a big round to win the tiebreaker against Shawnee and capture the school's first sectional title in girls golf.
St. Henry is the only team from the area to be among the three to qualify for next week's district at Sycamore Springs in Arlington. Lima Central Catholic rounds out the trio with a third-place finish.
St. Henry and Shawnee, which shot a 374 on Friday at the Western Buckeye League tournament, ended the sectional with matching 376s from their top four golfers. The first tiebreak goes to the fifth golfer in that event. Kendra Rindler fired a 102 while Abigail Rauch carded a 124 for the Indians, giving the title to the Redskins, who tied the school record for low 18-hole score.
For coach John Dorner, it was a typical team effort, and a goal for the team after missing by a couple strokes last season of advancing to district when just two teams advanced in last year's single division format.
"It's very (appropriate) because all year it has been a team effort," said the Redskins coach. We've had different girls step up and do their part. Today we took five girls and it came all the way down to the fifth girl. Obviously, it was a whole team effort and once again, the Redskins came through. I'm proud of them.
"That was a goal this year (advancing). Returning everyone from that team (last year). We had high hopes. The girls worked hard. We've been on a nice little roll. Hopefully, it's not over."
Taylor Rindler paced the Redskins with a 92. Shelby Link fired a 93 with Shelly Post and Ashley Kunkler carding a 95 and 96, respectively.
Coldwater made a great run toward a top-three finish, taking fifth with a 410, four strokes back of LCC and one back of Bath, which took fourth with a 409.
The Cavaliers will be represented at Sycamore Springs by Ashley Evers, who makes her second straight trip to districts after shooting an 87. Evers will be joined by a pair of Bath golfers in Kaitlyn Dugan (82) and Ashley Swartz (89).
"I struggled a little bit on the front nine. I would have had a 39 if I pared the last two holes," said Evers. "I advanced last year. It was a good experience."
Ellen Huffman of LCC carded low score of the day, carding a 1-under 71.
For the other local teams, Minster was sixth with a 421, Parkway seventh with a 436, Marion Local eighth with a 444 and New Bremen ninth with a 453.
Division II at Country Acres:
St. John's took the sectional title at Country Acres on Tuesday, shooting a 383 to take top honors. Van Buren (410) and Wayne Trace (420) round out the trio of teams qualifying for districts.
Morgan Wells led the Blue Jays with a 92. Abbey Martin and Kelsey Rekart added a 94 and 96, respectively.