Friday, September 26th, 2008
Bids for new complex are lower than expected
By Janie Southard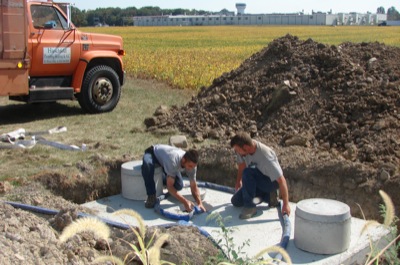 So far, so good. The first cost estimates for the design development phase of St. Marys' new school complex are running .67 percent below estimate.
"Understand there are no soft costs (architect and project management fees) added so this will go up some," said St. Marys board of education member Rees McKee following a special board meeting Wednesday afternoon. Completion of this phase represents completion of 50 percent of the entire $55 million project.
The bids opened at the meeting were for the early site work and the geothermal well field. There were nine bids opened for early site work with the estimated base bid at $908,000. The apparent low bid was $397,400 from R. D. Jones Excavating of Harrod.
Four bids were received and opened for the geothermal well field. The estimated base bid was $1,870,000 with the apparent low bid $1,300,000 from M&W, Knoxville, Tenn.
All true costs will be published when bids have been approved for the construction and renovation projects, expected to come in January. Renovation projects are scheduled to begin in mid to late February with completion by the start of school year 2009-10.
The board learned that construction trailers are already at the site located at the corner of Shipman Road and state Route 66, north of town. Midwest Electric crews provided the power supply to the site earlier this week.
Auglaize County Engineer's Department is installing an additional 40 feet of culvert in a ditch, south of Shipman Road. This will be backfilled to make a 20-foot wide gravel drive for excavation equipment to travel across the ditch.
The groundbreaking is planned for Oct. 20 at 2 p.m. The community is invited to this 45-minute ceremony.