Monday, September 29th, 2008
Healthy again, Homan pacing OSU
By Gary R. Rasberry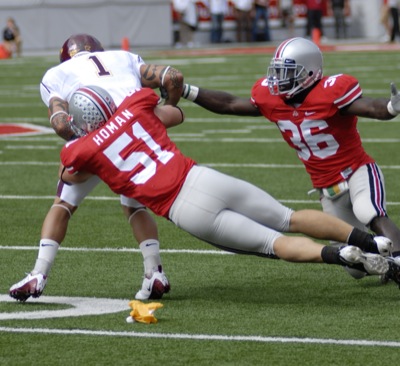 COLUMBUS - After playing just four games last season due to injury, Ross Homan celebrated his fifth game of this season in style.
The Coldwater native and Ohio State linebacker has rebounded strongly after missing most of last season for the Buckeyes with turf toe.
Now back at full strength, Homan was a force on the field Saturday as the Buckeyes faced Minnesota in the Big Ten opener, recording a career-high 10 tackles and recovering a Gopher fumble in OSU's 34-21 win at a jam-packed Ohio Stadium.
Homan is third on the Buckeyes in tackles - behind All-American James Laurinaitis and Marcus Freeman - with 29 tackles.
"It feels great to be back with my teammates and being able to go out on the field and contribute," said Homan during the postgame interview session. "I'm blessed, thank God, that everything is working out right now."
Being a player who was on the field a lot as a high school star for the Cavaliers and playing in all 13 games as a freshman, it was frustrating for Homan to be on the sidelines last season as a spectator.
"Definitely frustrating," said Homan. "But at the same time, from a mental standpoint, everything happens for a reason."
With Laurinaitis and Freeman staying for their senior seasons after losing in the BCS title game to LSU, Homan felt a little more comfortable in getting ready for the 2008 season.
"Having Marcus and James come back is unbelievable," said Homan. "Great players and great leaders. They help us out, whether physically or mentally. It's a great contribution they make."
Homan was back and ready to go during the spring practices, picking off teammate Todd Boeckman in the Spring Game, and was solid in starting the first three games of the season. Against Troy and Minnesota, teams that run spread offenses, Homan was replaced by an extra defensive back, but made his presence known as his first tackle resulted in a loss of yards and forced the Gophers to punt.
"Our defensive coaches do a great job putting us in great situations to make the play," said Homan. "We challenged ourselves to get better."
With a tough schedule ahead, starting with a prime-time game at Wisconsin next Saturday night, Homan and the Buckeye defense are now looking to prepare.
"Every team in the Big Ten is great," said Homan. "Every week, you have to bring your A-Game."