Tuesday, September 30th, 2008
Lachey has a passion calling games for OSU
By Gary R. Rasberry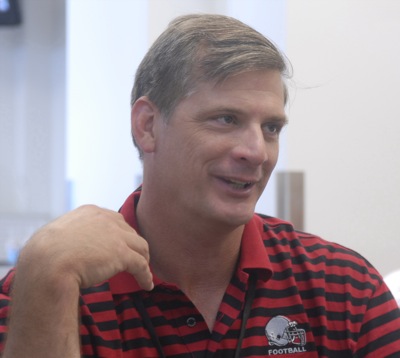 COLUMBUS - When he took the job as an analyst for his alma mater's college football team, Jim Lachey didn't expect it to be a career.
Twelve years later, the St. Henry native and former Ohio State All-American is still in the booth during the football season, telling it like it is as his Buckeyes roll through the schedule.
"No," said Lachey when asked if he thought he would be still handling the duties today. "Really, the year after I retired (after an All-Pro tenure with the Washington Redskins), I came back here and got into radio. It seemed like a lot of fun.
"You think four years of college goes by quick, the last 12 years seemed to fly by."
Lachey is a busy man as he arrives at Ohio Stadium 21/2 hours before the noon kickoff. His first assignment is to do a radio show on WBNS, the flagship station for the Ohio State Radio Network.
About 10:20 a.m., he makes it back up to the press box for a snack and to converse with media and VIP. At 11 a.m., he begins the pregame show with play-by-play man Paul Keels.
"I've been working with Paul the last 11 (years)," said Lachey. "We just have a lot of fun. After all this time, we think alike. He can almost finish my sentences."
Even with his regular job, Lachey is busy during the week with the Buckeyes, doing the Buckeye Roundtable on Mondays and call-in shows. There is a lot of work behind the scenes.
"If you want to be good, you have to work at it," said Lachey. "I can't just show up on Saturdays. I like to get out to practice about 2-3 times a week to check out the players. I don't think it's fair to have an opinion on a guy if you don't really know him.
"I've got a big elaborate cheat-sheet, so to speak. My charts that I come up with for the games. You've got about 44 guys on each team you want to study a little bit."
Something that Lachey brings with him to calling games from his tenure as an assistant coach with the AFL's Columbus Destroyers is watching film to prepare for Saturdays.
"I have all my video equipment, so they pretty much give me the coaches' tapes and sideline films," said Lachey. "So I get a chance to watch that at my house, break down the film, look at technique and see what people are doing. I enjoy that stuff."
The job has turned into a dream job.
"It's a great opportunity to see every Buckeye game, home and away," said Lachey. "I haven't missed a game the last 13 years.
"We (Lachey and Keels) have a lot of fun doing it. As long as we're having fun, we're going to continue doing it. Still have a few years on my contract, so I'm planning on doing it a few more."