Friday, September 5th, 2008
Celina cruises by St. Marys in three
By Ryan Hines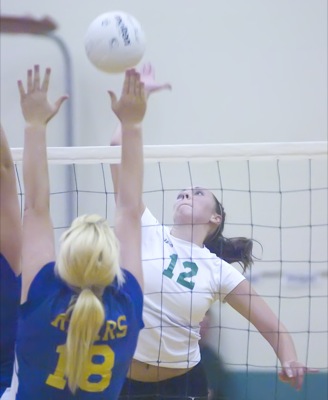 St. Marys got better as Thursday night wore on, but the Roughriders were simply overmatched as Celina marched to a 25-11, 25-16 and 25-22 victory in Western Buckeye League action.
The two Grand Lake rivals are on opposite ends of the spectrum through the first seven games this season as Celina is 6-1 overall and 2-0 in the WBL while St. Marys is now 1-6 (0-2 WBL).
"It's always nice to beat St. Marys because they are our rivals," said Dammeyer, who coached Roughriders head coach Tricia Naseman in club volleyball several years ago. "They are a young team but they were competitive and never gave up. We played great defense and made it tough for their hitters."
Celina was in complete control from start to finish in the first game. Kelsey Waterman, Cenzie Yoder, Maria Dorsten and Cassandra Chittum all had one kill apiece before St. Marys could stop the momentum with a timeout as Celina charged in front 7-2.
The Bulldogs' lead ballooned to double figures at 14-4 leading to a second St. Marys timeout as the balanced Celina attack was relentless. Celina's lead never dipped below eight points the rest of the first game, and the Bulldogs got in front by as much as 14 points on several different occasions, including the 25-11 first-game final.
Bailey Smith and Erika Thornsberry kept St. Marys within striking distance through the first 25 points in game two, but the 14-11 Celina advantage quickly grew from that point forward.
Kelsey Mastin made a strong contribution off the bench with three kills late in the second game and the three-point Celina lead expanded to as much as nine before Erin Dorsten hammered home a pair of kills to put the Bulldogs ahead two games to none.
It looked like it was going to be a dominating capper to the night early on in the third game as the Bulldogs jumped on top 16-5, but St. Marys battled back.
Celina had seven uncharacteristic errors the rest of the way in game three and St. Marys rallied around the play of Megan Bruggeman, Smith and Thornsberry to fight back to a one-point deficit at 23-22.
However, a Thornsberry hitting error and a miscommunication in the back row on match point ended the Roughriders' night in three games.
Despite the three-game setback, Naseman was proud of the comeback she saw from her team.
"I think that maybe we picked up a little momentum in the second game and we really fought back in game three and I was proud to see that out of the girls," said Naseman. "They could have gave up after the first game, but they didn't and just kept battling against a good team in Celina, which is probably one of the better teams in our league."
Dammeyer was happy with the overall performance from her Bulldogs, except for the loss of focus late in game three.
"I was impressed with the way that they (St. Marys) played in the third game, and not so happy with the way that we were playing at that time," said Dammeyer. "It's the best out of five in volleyball and you have to stay focused until the match is over. You have to work to earn everything that you get and that's what I told our girls."
The statistics showed an all-around strong performance by the Bulldogs.
Julie Klosterman had six kills, three aces, 20 assists and six digs while Cenzie Yoder had nine kills and five blocks. Waterman was all over the court for the Bulldogs with eight kills and 18 digs while Erin Dorsten added six kills and eight blocks. Also performing well for Celina was Maria Dorsten (17 assists), Audrey Harner (17 digs), Meagan Stoker (10 digs) and Chittum with five kills off the bench.
Celina will return to action on Tuesday with a road trip to Versailles while St. Marys will travel to Lima Senior on Tuesday.