Tuesday, September 9th, 2008
Busy day of golf at The Mercer County Elks
By Gary R. Rasberry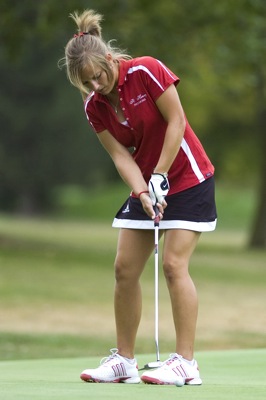 The Mercer County Elks hosted three Midwest Athletic Conference golf matchups on Monday, with the undefeated St. Henry girls team looking to go to 5-0 on the season in facing Parkway.
The Redskins rolled to victory in knocking three strokes off their school record for nine holes, shooting a 186 - having broken the record two weeks ago at The Elks - with the Panthers coming in with a 214.
In the other girls MAC match at The Elks, Coldwater improved to 2-4 and kept Minster winless in MAC play with a 211-232 win.
In the lone boys conference match of the day, Fort Recovery picked up its second league dual match win of the season with a 176-188 win over Marion Local.
GIRLS
St. Henry 186, Parkway 214
The Redskins had their four scoring golfers shoot 49 or better on the day - and got a 50 and 53 from their two non-scoring golfers - in taking three strokes off the mark set two weeks ago in MAC play at The Elks.
Shelly Post earned the medalist honors with a round of 43. Taylor Rindler shot a 46 with Kendra Rindler and Shelby Link shooting 48 and 49, respectively. Ashley Kunkler and Elizabeth Albers rounded out the sextet with 50 and 53, respectively.
"We seem to be peaking at the right time," said St. Henry coach John Dorner. "Hope it's not too soon (the MAC tournament is Sept. 20 at Stillwater in Versailles). We had several girls put together good rounds. We had four below 50 again and set a school record in probably what was our biggest match of the year so far.
"(Parkway) came in 3-1 and everyone else in the conference has two losses. Things tighten up if we don't defend our own turf here. Fortunately, we play The Elks well and visiting teams come in here and if they don't play the course often, they struggle."
Parkway coach Eric Stachler concurred with Dorner's comment.
"For us, it's the typical way of shooting at The Elks," said Stachler. "Seems like whenever we come over, we struggle a bit. Every girl had a few strokes higher than they usually shoot. When you don't come over here and play a lot, that's what you get."
Abby Evans led the Panthers with a 50. Emily Winings and Kara Heiser each added 54s with Alyssa Evans shooting a 56.
Coldwater 211, Minster 232
Both teams had a long day on the course, with action not wrapping until 7:30 p.m. Minster, minus its lone returning letterwinner Regan Arnold who was sick, struggled as no Wildcat shot better than 55.
Coldwater also had struggles, but were led by top golfer Ashley Evers, who shot a 43 to earn the medalist honors and be the only player in the match to break 50.
Ellie Severt shot a 53 with Stephanie Giere carding a 56 for the Cavaliers.
"They're working at it," said Cavaliers coach Joe Maruna. "I've got good attitudes."
Megan Jutte paced the Wildcats with a 55. Stacy Bernard and Kelly Mueller each shot a 58.
BOYS GOLF
Fort Recovery 76, Marion Local 188
The Indians, who have had some struggles, used five sub-50 scores to go to 2-5 in the MAC with the win.
Freshman Jared Kahlig earned the medalist award for the day, posting match-low 43. Brady Kahlig and Curstin Schroer each shot a 44 with Travis Hart carding a 45.
"They stayed out of trouble, (that) was the big thing," said Indians coach Brad Evers. "We kind of avoided the high number. The high number has gotten us all year long, except for today.
"We had five guys in the 40s, and they were all good 40s, lower-mid 40s. That's one of our better scores of the year."
Nate Thobe paced Marion Local with a 45. Monte Imwalle carded a 46 with Andrew Kremer shooting a 47.