Wednesday, October 1st, 2008
Elida another three-game victim for Celina
By Ryan Hines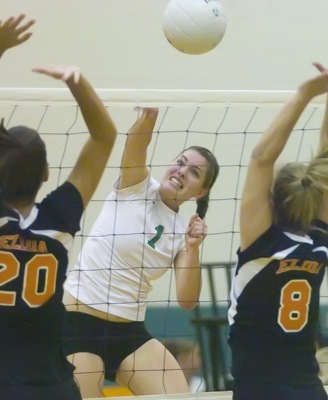 Celina wasn't at its best on Tuesday evening at the Intermediate School, but the Green and White still only needed three games to get past Elida.
It was a slow start in all three games, but Celina rallied in each instance for a 25-21, 25-14 and 25-17 win in Western Buckeye League action against invading Elida.
Celina (15-3, 6-0 WBL) remains on top of the WBL standings with Ottawa-Glandorf (11-4, 6-0 WBL) while Elida slips to the bottom half of the league at 6-11 overall and 2-4 in the WBL.
Despite Celina's sixth straight three-game win over a WBL opponent, head coach Carolyn Dammeyer wasn't completely impressed by the performance of her team.
"I'm not sure what our issues were tonight," said a puzzled Dammeyer. "I don't think that we were as fired up for this match as we should have been and needed to be. I think that coming off a busy day of volleyball on Saturday that we were a little lackadaisical."
Elida had a lead of at least two points in all three games, but unforced errors kept the visitors from ever taking control in any one game.
In game one, Elida jumped in front 5-2 and even had the lead as late as 17-16.
However, Celina scored eight of the next nine points to take control of the first game with a 24-18 advantage. Kelsey Waterman's strong serving created numerous Elida miscues and Cenzie Yoder added two kills and a pair of stuff blocks to spark the Celina spurt.
Elida then scored three straight points before a service error sealed the win for Celina at 25-21. Of the 13 errors Elida had in game one, four of them came on service errors.
Celina dug itself an early two-point deficit and Elida hung tough with the WBL leaders until midway through game two.
With Celina nursing an 11-10 lead, the home team dominated play the rest of the way winning 14 of the last 18 points for a 25-14 victory. Yoder had three kills and an ace to highlight the run. Elida had another 15 errors in game two.
Elida held a 14-11 lead past the midway point in the third game thanks to the hitting attack of Kelsey Weeks.
The three-point lead for Elida was quickly erased, thanks to 10 straight points by Celina. Elida had six unforced errors of the 10 Celina points while Kelsey Mastin added a trio of kills for the home team.
Elida never got closer than six points the rest of game three as Celina prevailed, 25-17.
With another 13 errors in game three, that brought the three-game total to an astounding total of 41.
"I think that the girls just need to establish confidence in themselves and the errors wouldn't be so glaring," said Elida head coach Kevin King. "This is an intimidating place to play and Celina is a great team. The team with the least unforced errors is usually going to win the match and that's what happened."
"Elida is always a good defensive team, but the big problem for them was errors," said Dammeyer. "They gave us quite a few free points tonight. When you have unforced errors like they did tonight, it's just like giving away points. They made more errors than we made tonight and that was a big key."
Yoder and Waterman were the hitting stars for Celina as Yoder had nine kills and four blocks while Waterman contributed seven kills and 13 digs. Mastin had four kills and two blocks while Audrey Harner and Meagan Stoker added 14 and 10 digs, respectively.
Celina is back in WBL play again on Thursday with a road trip to Lima Bath.