Friday, October 3rd, 2008
Fort festival features guns and dogs
By William Kincaid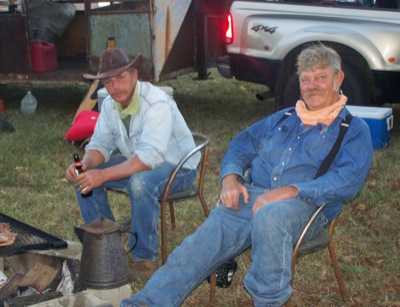 FORT RECOVERY - Camp fires billowed from rings, beagles barked and beer was drunk on the eve of the annual three-day Traders Day Festival at the Ohio Progressive Sportsman Club.
"As you can see, we got a pretty good turnout already," club Secretary Don Wehrkamp said on Thursday evening.
Wehrkamp, who joined the club when he was 18 and is now 52, said the club expects as many as 4,000 people to visit the 37 acres of club ground on St. Peter Road this weekend.
"It's gotten a lot bigger over the years," he said.
At the event, vendors sell firearms, hunting dogs, knives, toys and about anything else a person could think of related to the outdoor lifestyle. The event is open to the public with a $2 admission charge.
Half of the 340 lots designated for campers were full already on Thursday night. Competitions, such as coon dog swimming and beagle barking, start today and run through Sunday.
For the swim, coon and hound dogs race 300 feet across the club's pond. An artificial raccoon is strung on a line across the pond to entice the dogs to the finish line.
Dogs are brought from 11 states, Wehrkamp said.
The club also hosts a barking contest. A raccoon is released up a pole, while dogs bark at it. Whatever dog barks the most in a minute wins. Usually the event features beagles. Hound dogs, Wehrkamp said, are at a disadvantage as they howl - not bark - for long intervals.
Traders Day dates back to the 1970s and many of the same people return each year, organizers said.
"It's just a relaxing time," Martin Griffiths of Indiana said on Thursday.
Much of the club's proceeds goes to various charities and scholarship funds, Wehrkamp said. Since 1990, the club has donated $54,000 to multiple entities, including the Center for Neurological Development, Mercer County Fair Board and cancer associations.
Traders Day opens at 8 a.m. each day. Most vendors pack up and leave early Sunday afternoon, Wehrkamp said.
"Saturday is the biggest day," he said.