Wednesday, October 8th, 2008
Celina earns share of league title
By Ryan Hines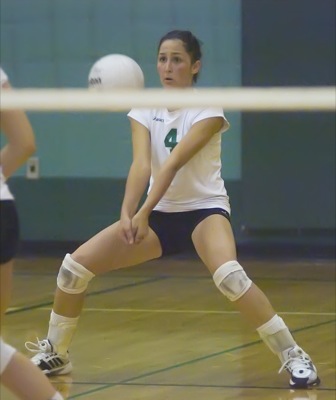 Ottawa-Glandorf has been a thorn in the side of the Celina volleyball program in recent years, but the Bulldogs got a little revenge on the Titans at the Intermediate School on Tuesday.
Celina ended a three-year losing streak against Ottawa-Glandorf with a 25-21, 25-10 and 25-23 win, which clinches at least a share of the Western Buckeye League title for the Bulldogs.
"The girls are really happy right now, even though we didn't do it in real impressive fashion," said Celina head coach Carolyn Dammeyer. "They were determined to win tonight and I think that they showed it on the court, especially defensively. I'm proud of them, they didn't play nervous and were focused on winning this match to get a share of the WBL."
The Bulldogs are now 17-3 overall and 8-0 in the WBL while O-G (13-7, 6-2 WBL) slips into a tie for third place (with Van Wert) behind second-place Shawnee (15-8, 7-1 WBL) in the WBL standings.
Even though Celina earned a share of the WBL title on Tuesday, there was no postgame celebration, because the Bulldogs aren't satisfied with a share of the WBL.....they want it all.
The only thing standing between Celina and its first outright WBL title since 2003 is Defiance (10-9, 4-4 WBL), which will visit the Intermediate School on Thursday evening.
"It feels good to get a share of the WBL title, but we want to make sure and beat Defiance on Thursday that way we can say that we dominated the WBL and beat all the teams," said Celina senior libero Audrey Harner."
"It will be so nice next year to be able to look up at the banner here and see that we won the WBL title in the 2008 season," said Celina junior Julie Klosterman. "We talked about wanting to make them have to buy another banner for this gym and it feels great to have made that happen. We wanted to fill the second banner with a title from 2008 and we want to start another banner next year with 2009 on it."
It looked as if it was going to be a tight battle judging from the early part of game one. O-G hung tough with Celina, trailing just 16-15, when the Bulldogs put together a game-changing run.
The Titans made four crucial unforced errors and the strong serving of Maria Dorsten allowed Celina to push its lead to 22-16. O-G got as close as three points late in the game at 24-21, but a Julie Klosterman kill coming out of a Celina timeout gave the game-one win to the Bulldogs.
In game two it was all Celina. O-G started with a 2-1 lead, but a kill and a stuff block by Cenzie Yoder helped the Bulldogs battle back and take a 7-3 lead which led to a Titans timeout.
With Celina holding an 11-7 lead, the Bulldogs put the match away by scoring the next 11 consecutive points for a commanding 22-7 advantage. Kelsey Waterman had four kills during that spurt and Erin Dorsten contributed two more. The Titans were never able to must much of a rally the rest of the way as Celina rolled to a 15-point victory.
Celina carried the game-two momentum into game three as the Bulldogs built a 15-5 lead thanks to five kills from Klosterman and three more kills from Yoder. The Bulldogs carried the 10-point bulge to 21-11, but then O-G mounted a comeback after the second Titans timeout of the game.
O-G scored five straight points to force a Celina timeout at 21-17 and the Titans' rally continued as the Bulldogs struggled to put the game away. Celina eventually grabbed a 24-20 lead, but O-G scored the next three points to pull to within one point, until a Titans passing error ended the match with a three-game sweep for Celina.
"This is really exciting for us because we hadn't beaten O-G in three years, so to do it tonight for the WBL title is exciting for all of us," said Waterman, a senior and three-year starter for the Bulldogs. "We want the WBL title back in Celina to keep our tradition going and we can't wait until Thursday."
Klosterman had another all-around strong match for Celina with six kills, 18 digs, 15 assists and four aces while Waterman contributed eight kills and 17 digs.
Yoder was strong at the net with eight kills and five blocks while Erin Dorsten added six kills and four blocks.
In addition to Yoder and Dorsten posting strong blocks at the net, Audrey Harner and Megan Stoker were masterful defensively in the back row. Harner led the Bulldogs with 21 digs and Stoker added 16 digs.
The Celina defense drew praise from O-G head coach Ann Ellerbrock.
"They are probably a little better defensively than I anticipated," said Ellerbrock. "Their block was pretty strong at the net, but their back row defense was as strong as I've seen. Their libero (Harner) had her foot on the line and then would cover so much court, she kept a lot of points alive that we thought were going to be kills. I can't say enough good things about their defense, and especially their libero. I would nominate her for Player of the Year (in the WBL)."