Thursday, October 9th, 2008
Schwieterman convicted in quadruple fatality case
By Margie Wuebker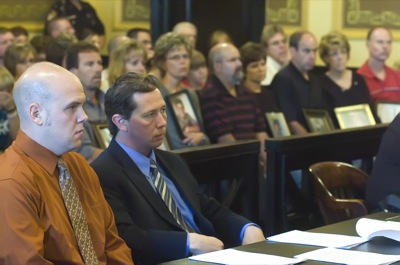 Nicholas Schwieterman appeared in Mercer County Common Pleas Court this morning and was found guilty of six charges stemming from a March 15 crash that claimed the lives of four area teenagers.
The 23-year-old Chickasaw man entered no contest pleas to four counts of involuntary manslaughter in the deaths of Jordan Moeller, Jordan Diller, Brad Roeckner and Jordan Goettemoeller. He also entered no contest pleas to one count of possessing drugs and one count of operating a vehicle under the influence of alcohol and drugs of abuse.
Judge Jeffrey Ingraham then found him guilty and set 1 p.m. Nov. 12 as the date and time for sentencing.
The four first-degree felony charges each carry up to 10 years in prison and $20,000 each in fines. The drug charge, a fifth-degree felony, could add an additional one year behind bars, a $2,500 fine and up to a five-year operator's license suspension, while the remaining OVI charge, a first-degree misdemeanor, carries a possible sentence of six months in jail, a $1,000 fine and license suspension ranging from six months to three years.
Collectively, his sentence could total a maximum of 411/2 years behind bars with fines totaling $83,500 and a six-year license suspension. Ingraham also said there would be no early release since he will likely receive a sentence exceeding 10 years.
Since Schwieterman agreed to plead to six charges, the state dismissed eight counts of aggravated vehicular homicide, all second-degree felonies, on the condition Schwieterman cooperates in the prosecution of Staush Homan in a related case of drug trafficking. Schwieterman also agreed to waive his right to appeal the court's decision regarding suppression of certain evidence and to not request a delay of execution of sentence. The agreement further stipulates the dismissed charges can be refiled in the event the terms are violated. Also dismissed were charges for trafficking in drugs and another OVI.
Additionally, the state reserves the right to argue prior to sentencing and restitution will not be part of the criminal case. However, this does not preclude parents of the victims from seeking compensation through civil cases.
The parents of the four victims held framed high school photographs of their smiling sons with several wiping tears as the court proceeding took place. Seventy-seven spectators passed through a metal detector and a bevy of law enforcement officers before entering the courtroom.
Plans already are in place for the sentencing, with Schwieterman's family as well as parents of each victim permitted to have 15 people on a list for admission to the courtroom. The anticipated large overflow crowd can watch the sentencing via television in the auditorium downstairs. This marks the first time closed-circuit coverage has been implemented locally for a criminal trial.
In the stipulation of facts, Schwieterman noted he was driving a Pontiac Bonneville that ran a stop sign or failed to yield the right of way at the intersection of County Road 716A and Brockman Road in Marion Township. His car collided with the Pontiac Grand Am driven by Moeller and carrying the other three victims. Schwieterman reportedly had bloodshot eyes, a smell of alcohol on his person and slurred speech with blood and urine tests indicating the presence of alcohol, cocaine and marijuana in his system.