Friday, October 10th, 2008
Cardinals edge Wildcats for boys MAC crown
Minster girls win 14th straight league meet
By Gary R. Rasberry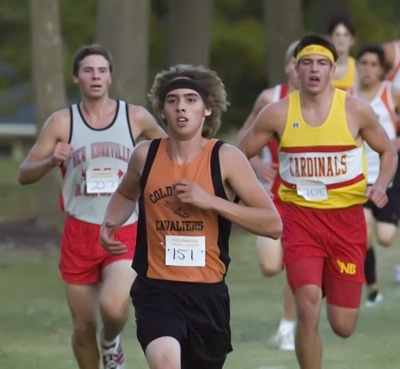 COLDWATER - Seems like whenever Minster and New Bremen got together for a boys cross country race this fall sports season, it has been a plethora of close finishes and occasional tiebreakers.
Add in strong teams like St. Henry and Coldwater for Thursday's Midwest Athletic Conference Cross Country championships, and a doozy of a race was in the cards.
New Bremen edged Minster 56-57 to capture the team's first MAC title since 1994. The battle for third was also a gem as host Coldwater edged St. Henry 73-77 for third, meaning the top four teams were grouped together by a mere 21 points.
"It was every bit of a battle, and then some," said New Bremen coach Adam Topp after getting the dunking from the water cooler. "Everything you expected to happen didn't happen. To come about the way it did just blows my mind."
The high school girls race was another dominating run by Minster, as the Wildcats captured their 14th straight MAC title in scoring 21 points, well ahead of runner-up Versailles' 53 points and third-place Coldwater's 69 points.
The Cardinals picking up the boys title was made a nailbiter due to Zack Speckman, a key runner up front for New Bremen, being unable to finish the race due to health concerns.
Fortunately, New Bremen's pack runners stepped up. Robert Franks, 42nd last week at Coldwater during the Lions Invite, moved up to 17th place this week, and Austin Suchland, 49th last week, finished 22nd.
"We said at the beginning of the year we had depth," said Adam Topp. "We had those guys back there that, all of the sudden lately, have been really pushing forward. They did that today when we really needed them to."
St. Henry's Doug Ranly, winner of the Lions last week, came through with his first MAC race title with a time of 16:41.90.
"I had a chance to get a break at the mile mark," said Ranly. "I knew (Justin) Eilerman was ahead and I knew I had to get him to get the race.
"I pulled away at the mile-and-a-half mark and kept pulling away."
Cardinal Jeff Kremer passed teammate Eilerman, who had the early lead, to finish second. Last year's MAC champ, Coldwater's Dusty Kuess, placed third with Eilerman fourth. Francis Slonkosky was the first Minster runner to cross in fifth.
Minster boys coach Larry Topp, Adam's uncle, tipped his cap to the Cardinals.
"There was some things that happened out there that made it closer than it was," said Larry Topp. "New Bremen ran very well today and we weren't on our A-game. We had guys run well. Tyler Richard, for us, was the only reason it was close (placing ninth). He really poured it on and made himself an all-league runner today (Top 12) and Francis Slonkosky, a freshman, ran number one for us.
"My hat's off to Adam again. He got us again. Maybe we'll get him next week."
In the girls race, Minster's Jessica Albers captured her second straight MAC race individual title, pulling away from Versailles' Tammy Berger down the stretch to cross the line in 18:43.50, nearly six seconds faster than Berger. Minster followed with third (Lei Bornhorst), fourth (Maria Dahlinghaus), sixth (Averie Bornhorst), seventh (Samantha Hoelscher) and eighth (Sophia Richard) to dominate the field. Only Alyssa Brunswick's fifth-place finish and Coldwater teammate Leah Brunswick's ninth-place finish along with Fort Recovery's Tina Roessner's 11th-place showing prevented Versailles and Minster from sweeping the 12 All-MAC spots.
"I could tell that (Berger) was falling a little farther (during the race), but I knew she was back there," said Albers, who posted a personal record with the winning time. "I had to keep going."
Minster girls coach Jessica Magoto was proud of her team's pack running.
"I was very happy with how they ran," said Magoto. "They had a nice solid pack working together up front. It's Jessica's second straight MAC title. I knew she wanted it. She was focused. Lei came in strong also and it was, boom, boom, boom, right after that. I thought they ran relaxed and confident."
In the junior high races, Fort Recovery captured the boys title with 40 points. Versailles was second thanks to a blistering run by Sam Prakel, who shattered the two-mile meet record with a time of 10:18, 17 seconds faster than the 1994 mark set by Minster's Phil Slonkosky.
Minster's junior high girls dominated their meet, scoring 17 points in capturing eight of the top 10 spots. Natalie Fausey earned the win with a solid time of 12:06.