Tuesday, October 14th, 2008
Students reunite at their one-room schoolhouse
By Shelley Grieshop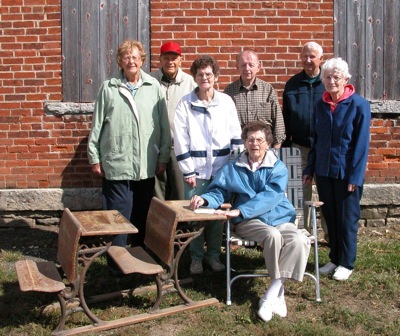 COLDWATER - The bumpy ground behind the old Smith School isn't as inviting these days to the students who once slung acorns and played Fox and Goose on the 'ole playground.
"We played Andy Over and had lots of acorn fights out here, big fights," laughs 83-year-old Eugene Buschur of Coldwater during a recent reunion of students who attended the one-room schoolhouse in the late '30s and early '40s.
Surrounded on three sides by a cornfield, the old school at the corner of state Route 219 and Gause Road now serves as a farm storage shed. After decades of calling children to its steps, the school's antique bell rests undisturbed in a nearby barn.
In 1942, Clarence Ebbing purchased the red brick building and lot for $500 from Coldwater schools. He passed the property to his son, Bob Ebbing, one of the local farm boys who attended the schoolhouse.
Bob Ebbing spearheaded the recent gathering of his former schoolmates at the site.
"I was the only one in the first grade and I was pretty small," he recalls. "When it was my time for class, Mr. (Frank) Huver would call me up front and set me on his desk. It was just me and him - reading, writing, arithmetic and spelling."
Students were taught in small groups, one grade at a time, while everyone else worked independently, Ebbing explains.
At 75, he is the youngest of the seven former students who've gathered to have their photograph taken in the shadow of the school. They pass around an old black and white photo of themselves posed with their teacher and six other students, now deceased. The moment was captured 70 years ago in the same spot they stand today.
The group of retirees laugh in unison, still pondering who pushed the outhouse onto its side and which mischievous child whittled the wooden handle on the coal bucket.
"Frankie (teacher Frank Huver) kept asking who did it, so I finally said it was me," grins Mary Nieberding Ahlers, 80, of Coldwater. "I really didn't do it, I just got tired of hearing him ask."
Norma Ebbing Kruger, 76, of Columbus, claims she was the "smartest and dumbest" of her grade. She also was the only one in her grade, she quickly admits with a laugh.
Discussion soon turns to the magnificent plays held at the school several times each year.
"I remember Frankie playing the organ," Kruger says, addressing her teacher in a manner she wouldn't have dreamed doing as a student.
Others chime in and describe the roles they played in the various productions.
"There were never enough girls," Jean Ebbing Siefring, 80, says, adding black characters were created with smudges of coal.
Each child was instructed to bring bed sheets from home that were pinned together for a stage curtain. And who remembers the candy handed out by the teacher? A rare treat during tough times, they agree.
Each day at lunch, children devoured molasses bread and egg sandwiches from their wood and metal lunch buckets. Those who lived close by walked or roller skated home for a hot meal.
"Bob (Ebbing) came back from lunch one day with his bib still on," Siefring teases. "Oh, did those older boys make fun of him."
With an embarrassing smile on his face, Ebbing quickly defends himself: "I was only 5."
School rules were followed to the letter, although no one recalls harsh punishments for unruliness. Chores were part of the daily routine, just as they were at home on the farm.
Francis Wenning, who passed away in June, played a dual role as student and part-time janitor for a meager $10 per year. Often dressed in boyish knickers, he dutifully hauled buckets of coal to the furnace on chilly mornings, the group recalls.
In 1939, Buschur and Paul Wenning, 83, together graduated from the eighth grade and were sent to join the league of high school students in town.
"I didn't care to go, we just didn't fit in," Wenning says. "We were outsiders."
Two years later the schoolhouse closed its doors. The seven remaining students in grades 1-8 also were sent to the town school to continue their education. For a while, the sounds of children were replaced by clucking chickens.
One-room schoolhouses have nearly disappeared from the local landscape and so have many of the students who filled them.
Alberta "Bert" (Moorman) Eckstein, now 78, takes a quick look around after waving good-bye to her friends. Although her time with the "North Road gang" ended generations ago, she still pictures herself and others playing in the mid-day sun.
"It's nice to be back," she says.