Wednesday, October 15th, 2008
Roughriders get off to good start in tourney
By Ryan Hines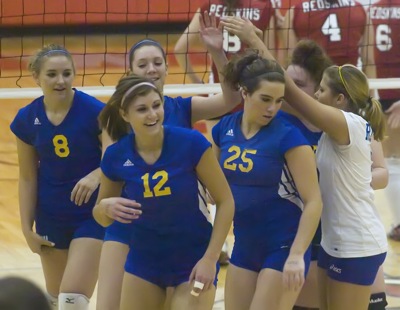 VAN WERT - Despite playing without a couple of impact players, the St. Marys volleyball team was able to open the postseason with a victory.
The Roughriders beat Auglaize county rival Wapakoneta for the second time this season, 25-17, 19-25, 25-17 and 25-23 in Division II sectional semifinal action at Van Wert on Tuesday.
St. Marys, which beat Wapakoneta in three games earlier this season on Sept. 18th, improves to 6-16 this year and will play Grand Lake rival and top-seeded Celina (18-4) on Saturday at 1 p.m., back at Van Wert. Wapakoneta's season comes to a merciful end after a 2-15 campaign.
Roughriders head coach Tricia Naseman was happy that her team got off to a good start in postseason play.
"We played with confidence and we played as a team and that's exactly what we need in tournament play," said Naseman.
A foot injury has kept Erika Thornsberry out of the Roughriders' lineup for some time now and defensive star Bailey Smith was unable to play because of the flu. Missing Thornsberry and Smith are big losses for the Roughriders, but Naseman liked what she saw from her short-handed squad.
"We have one of our middles out for the season and we also had one of our outside hitters, who is also one of the best defensive players in the league, out for tonight too, so we were really happy with the way that the girls went out there and fought to win," said Naseman. "We adjusted well out there with a new lineup and our seniors led the way for us and helped some of the newer girls to be in the right position.
"Liz Sampson came in and did a good job to replace Thornsberry in the middle, and Rena Brown and Shelby Core did a good job on the outside for Bailey," added Naseman.
Wapakoneta had an early advantage over St. Marys with a 13-9 lead in game one, but aggressive serving helped the Roughriders battle back.
A pair of Kara Cheslock aces and a Jessica Taylor kill helped St. Marys tie the score at 13-13.
The two teams traded points until it was 15-15, and that's when St. Marys grabbed control of game one. Megan Bruggeman had a pair of aces to spark a six-point Roughriders run that pushed St. Marys in front 21-15 to force a Wapak timeout. Wapak never got closer than four points down the stretch as a Rachel Wale ace and a Jenny Brown kill gave St. Marys a 25-17 win.
In game two, Wapakoneta erased a St. Marys lead with a spurt at the midway point and never looked back. The Roughriders were nursing a 9-8 lead, but Sheila Hahn's serving and Devon Golden's four kills led to a seven-point burst by Wapakoneta that put the Redskins in front, 15-9.
St. Marys never pulled any closer than three points the rest of the way and Wapakoneta evened the match with a 25-19 win.
The Roughriders won the first game after being aided by five aces and St. Marys got another big boost from its serving in game three.
St. Marys registered seven kills in the third game, by five different players, and rode the service game to a 25-17 win. Jenny Brown and Bruggeman each had two aces while Wale, Rena Brown and Cheslock all had one ace apiece.
"I thought that we needed to come out and serve aggressively to keep them off balance, which also created a few more misses, but we also got quite a few aces because of the increased aggression," said Naseman.
The fourth and final game was tight throughout. After 12 ties and eight lead changes, St. Marys was finally able to take the lead for good after a Liz Sampson block made it 21-20.
Jenny Brown and Taylor also added kills to make it 23-20 in favor of St. Marys, but Wapakoneta got as close as 24-23 before the Roughriders finished the night with a Shelby Core kill.
Jenny Brown led St. Marys with 10 kills and three aces while Taylor and Wale contributed seven kills and two aces each. St. Marys had 20 aces versus Wapakoneta with Bruggeman and Cheslock pacing the way with six and five, respectively.