Thursday, October 16th, 2008
Rain doesn't slow down St. Marys
By Gary R. Rasberry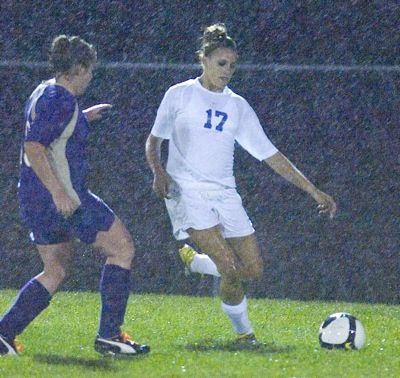 BATH TOWNSHIP - The St. Marys girls soccer team opened Division II sectional play in grand style, shutting out Ada 12-0 at Bath High School on a wet Wednesday evening.
The Roughriders (15-1-1) advance to face Western Buckeye League foe Kenton on Saturday at Bath starting at 7 p.m. The Wildcats won their second match of the season in beating Delphos Jefferson 5-2 in the opener of the evening on Wednesday.
The only concern St. Marys had during the night was keeping players dry and uninjured. A heavy rain and wind kicked up during the evening.
"Not that the second string is (expendable), I wanted to protect my starters," said St. Marys coach Paul Dingledine. "I wanted to get them some playing time and get them a feel for this atmosphere with the rain and stuff because we may have it down the road sometime. Without any lightning (to prompt a delay), it didn't seem to bother them. They played hard through it when they were in there."
The Roughriders cruised to a win, outshooting the Bulldogs 21-0 and dominating play.
The only goal that mattered came with 35:09 left in the first half when Kaysha Dietz kicked in the first of her three goals. After another goal almost four minutes later, Chelsea Waterman scored the first of her two goals with 24 minutes left in the half to make it 6-0.
Dietz scored her second goal with 23:40 left in the half followed by goals from Carrie Schlater and Kristen Vehorn to round out the first-half scoring.
The rain let up at the half, only to kick in strong again during the second half. The Roughriders kept up the pressure as Katie Burke scored two minutes into the second half, followed by a Katie Heitkamp goal nine minutes later. Dietz completed the hat trick at the 22:40 mark with Waterman getting her second goal at the 20:35 mark. Macy Davis-Ferrall, who started the night in goal but rotated with Brando McCollister during the game, got a goal with 16 1/2 minutes left. St. Marys got one last goal with less than a minute left off a corner kick.
"Coming in, we knew (Ada) was the seventh seed in the drawing and they struggled this year," said Dingledine. "It gave us an opportunity to get girls in that haven't had a lot of playing time and some of the jayvee girls we brought up for the tournament. It gave them an opportunity to get looks at the varsity level."
In Saturday's first match at 5 p.m., Bath will take on Lima Central Catholic. LCC beat St. John's 2-1 on Monday.