Friday, October 17th, 2008
Students hear 'Rachel's Challenge'
By Janie Southard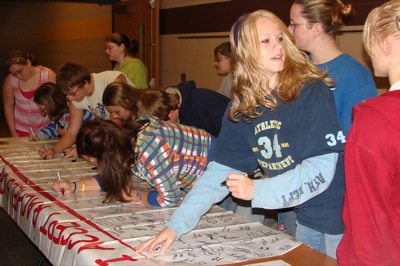 ROCKFORD - Rachel Joy Scott was a student at Columbine High School in Littleton, Colo. on April 20, 1999. Two students carrying guns shot 53 people that day. Thirteen died. Rachel was the first. She was 17 years old.
Parkway middle and high school students on Thursday heard "Rachel's Challenge," a program designed by her father Darrel Scott to help prevent teen violence. This program has been presented to an estimated 11 million kids over the past several years. It is highly motivational as well as emotional.
A teacher ushering kids back to class after the first presentation said one of the middle school boys commented to her that the program was really good. "But, you know, I got kind of teary," he told her. He was not the only one of the 600 Parkway students who attended Thursday's four sessions to tear up.
On that April day nine years ago, Rachel was eating lunch on the lawn outside the school's library with a friend when she was shot in the leg by fellow students Eric Harris and Dylan Klebold, who went on to shoot and kill 11 other students and one teacher and then kill themselves.
After wounding her, one of the duo asked if she still believed in God. "Yes," she replied. The fatal shot was immediate and at point blank range to her head.
In going through her things, Rachel's father discovered six diaries his daughter kept, chronicling not only her daily activities but her "code of life," some of which was part of an essay she wrote for school shortly before she was killed.
"I have this theory that if one person can go out of their way to show compassion then it will start a chain reaction of the same," she wrote.
Presenter Shane Hammond, a two-time Olympic champion weight lifter, said before the Parkway High School session that he personally gives this presentation about 400 times a year and that there are several other presenters.
The first of Rachel's five challenges to students, and perhaps to anyone who'll listen, is to eliminate prejudice. "Look for the best in others," she wrote. Give everyone you meet three chances. Don't write anyone off after just one meeting.
Another of the five is to dare to dream big things. Write down goals. Before he would lift weights, Hammond wrote down the exact amount of weight he wanted to lift. "That was a driving force for me," he said.
He said to keep a journal or diary like Rachel did. "But, you boys, call it a journal. That's cool. Don't say diary," he advised tongue in cheek.
Hammond continued: "When I was a little kid I was fascinated with the Olympics. I told everybody I wanted to be an Olympian when I grew up. I didn't know how I'd do it but it turned out to be weight lifting. I was in the 2000 Olympics and again in the 2004 Olympics. When I retired in 2005 I retired as the strongest weight lifter in the U. S. history ... Dare to dream big."
In a video clip some of Rachel's friends and her sister said she told them she wouldn't live a long life. One friend recalled she said that a lot and "seemed very comfortable with it."
In 1998 she wrote in her journal: "This will be my last year, Lord. I have gotten what I can. Thank you." And, of course, it was indeed her last year.
On the back of her dresser in her room she had outlined her own hands and wrote: "These hands belong to Rachel Joy Scott and will someday touch millions of people's hearts."
The program at Parkway was made possible by grants and donations including Lions Clubs of Willshire, Mendon and Rockford, the Willshire Community Civic Association, Mercer County ESC, Parkway Schools 21st century grants and private donations.