Thursday, October 2nd, 2008
Library in Celina plans for addition
Wing would house rocks
By William Kincaid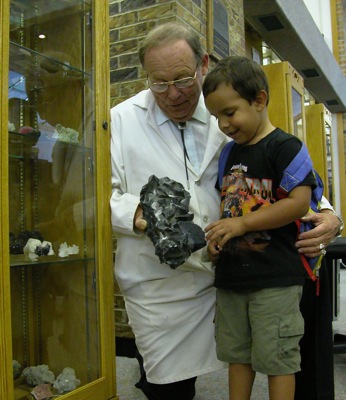 Officials at the Mercer County Library hope to build a $500,000, three-story wing to the Celina library to house its collection of rare minerals.
A fundraising campaign to raise nearly $300,000 is set to begin next year, library Director Austin Schneider said.
In 2006 Ron and Ruth Langsdon of St. Marys donated part of their rare mineral collection to the library. The collection - which the library claims is the largest in Northwest Ohio - contains more than 600 minerals from around the world, including India, China, Africa and Brazil.
But there is not enough room in the library to showcase them all, Schneider said.
Therefore, the library wants to add a three-story wing to the north of the existing entrance sometime in the next two years.
The estimated cost of the 2,400-square-foot addition is $500,000, and the selected architect is Garmann/Miller & Associates, Minster. The library currently has $200,000 in its general fund, is seeking a $5,000 grant from the Midwest Electric Community Connection Fund and will embark on a donation campaign in 2009.
"We'll probably do advertising to give people an opportunity to take part in it. We'll be contacting businesses by mail," Schneider said, adding it will not be a door-to-door campaign.
"We do realize that these times are a little difficult right now," he added.
Schneider said the library has been putting aside money for a few years to come up with the $200,000.
If the library acquires the necessary money, Schneider said he hopes to begin at the end of 2009. None of the library's operations or activities will be affected by construction, he said.
The rock and mineral collection is open to the public during normal library hours, with tours available for schedule. A majority of groups interested in tours are from the schools, Schneider said. The tour usually includes participants getting a mineral kit with 20 minerals in sand and a gold miner's pan to search for each mineral by color, shape and texture.