Monday, October 20th, 2008
St. Henry and Parkway advance
By Mark Ruschau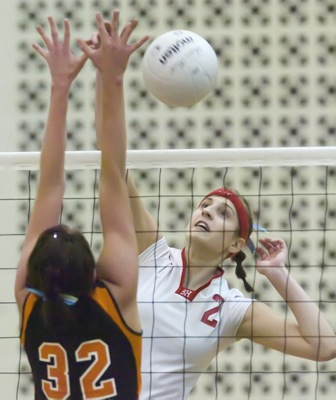 ROCKFORD - For the top-seeded teams at the Division III volleyball sectional at Parkway High School, the number-two seed St. Henry Redskins and the top-seeded Parkway Panthers, it was not exactly the road they wanted to take, but the destination was achieved as both got off to slow starts before rolling to victories.
In the opener, Parkway struggled in each of the three games but found just enough to get by the Wayne Trace Raiders 25-15, 25-16, 25-19. In the nightcap, the Redskins lost the first game and then rallied to post a 16-25, 25-13, 25-16, 25-23 win.
With wins, Parkway will take an 18-5 record to Tuesday evening's district semifinals against the Redskins, now 13-10 and winners of 10 of their last 11 matches.
Wayne Trace-Parkway
The Panthers, coming off a 10-day layoff, showed some rust as they struggled with Wayne Trace in each game before going on a game-definxgainst a pretty good Wayne Trace team. Wayne Trace had some nice hitters, they had some good float servers, so they scored some points in runs against us today.
"For us, I think we played well at times and at times it seemed like we were just not in the game," continued Marbaugh. "The way our schedule has been this year, we have played two or three games a week and then to have a week off like we did, it's tough to get back on track so I was happy to get out of here and get the win."
St. Henry-Coldwater
You want to talk about slow starts, just ask the St. Henry Redskins as they fell behind to the Cavaliers 7-0 early and got blown out of the first game, never coming closer then two points.
The Cavaliers got a nice service game in the opener as they missed just two serves and got five service winners, including three by Marla Hess. Hess also recorded three kills.
The Cavaliers also took advantage of St. Henry mistakes in game one as the Redskins gave up 13 points on hitting errors.
"I just felt that we needed to get focused and get into the game plan that we wanted to get into and that is something that we did not do in the first game," said St. Henry coach Lori Schwieterman. "We panicked a little in the first but give credit to Coldwater as well, they did a lot of nice things as well. They had excellent serving and they mixed things up real well."
St. Henry came out in the second game with renewed effort and took it to the Cavaliers. After giving up 13 points on hitting errors and scoring just seven points on kills in the first game, St. Henry flipped those numbers in game two recording 15 kills to just seven for the Cavilers and the Redskins gave the Cavaliers just three points off of hitting errors.
In game three, St. Henry scored five of the first seven points of the game and it never trailed in the game. Kenzie Bruggeman, Brooke Mattingly and Shelby Buschur each had four kills. Buschur added three service winners.
In game four, Coldwater came out and took early leads of 5-1 and 7-2 behind two kills each from Melissa Kahlig and Brittany Werling.
St. Henry slowly crawled back into the game as the Redskins closed to within one at 12-11 after a Kahlig hitting error. After a Werling kill made the score 13-11, St. Henry scored the games next six points, behind three kills and a block from Mattingly, to take a 17-14 lead.
Coldwater quickly came back and tied the game at 17 keyed by a pair of service winners by Kahlig. The game was then tied at 18, 19, 20 and 21 before Coldwater took its last lead at 22-21 on a kill by Maria Wermert.
St. Henry then retook control of the game as scoring four of the games last five points to secure the win behind kills by Katie Kremer, Bruggeman, Emily Post and the game-clincher by Bruggeman.
"After the first game we talked about what we wanted to do and we refocused and came out and got on a roll," said Schwieterman. "We played real nice in the second and third game, the fourth we let up a little bit but we were able to hang on."