Saturday, October 25th, 2008
Cavaliers crowned MAC champions
By Gary R. Rasberry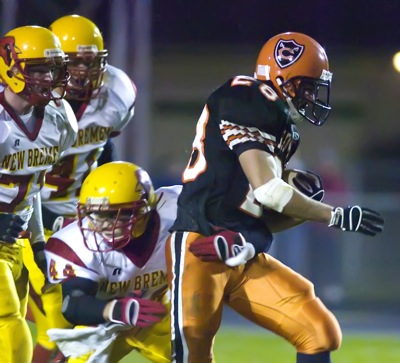 COLDWATER - In the final regular season tuneup before the playoffs, Coldwater scored on its first six possessions and the Cavalier defense shut down the New Bremen offense en route to a 38-0 win at Cavalier Stadium.
The win not only clinches the Cavaliers (10-0, 8-0 Midwest Athletic Conference) their 16th MAC title, and the sixth under coach John Reed, it secures Coldwater the top seed in Division IV Region 16 and a home playoff game next week. New Bremen ends the season at 3-7 overall and 2-6 in MAC play.
"To go 10-0 and be the MAC champions was our first goal," said Reed. "We'll see where we can go from here."
The Cavaliers worked the ball around in the scoring column on Friday. Cory Klenke, Tony Harlamert and Dylan Gillis each ran in a score and Mitch Giere and Adam Rammel each snagged touchdown receptions. Kicker Mario de la Rosa added to his career totals with five PAT kicks and a 24-yard field goal in the first half.
Defenisvely, Coldwater bottled up the Cardinals on the ground, holding New Bremen to just three rushing yards on 27 carries. Passing-wise, quarterback Caleb Williams was able to move his team, throwing for 186 yards but being unable to put points on the board.
In the second quarter, New Bremen put together its longest drive of the game, taking 61/2 minutes off the clock on a 16-play drive that got the Cardinals to the Cavalier 16, but Williams fumbled a snap and lost 10 yards, then on a fourth-and-two from the Cav 19 could not find Corey Jutte for a first down to turn the ball over on downs.
"Offensively, as soon as we got to that red line (at the 20 yard line), we just decided to stop," said New Bremen coach Rob Messick. "We were fine 20 to 20. We kept moving the ball and getting some first downs. Then we faltered when we got down there. Credit to (Coldwater), they dug in and we failed to make some plays. We dropped a lot of balls in the first half."
"We treated this like it was any other game," said Reed. "We have not looked ahead to the playoffs. We knew we had to take care of business. I was really impressed with how hard New Bremen played. They came here. They don't have anything to play for but their own pride for themselves. They really played hard."
"You get them down third-and-nine, third-and-12 and third-and-15, you can't get them off the field," said Messick about Coldwater's offense. "Defensively, we did some nice things, but we just couldn't get off the field on third down."
Klenke completed 11-of-17 passes for 147 yards and a score in the first half. Harlamert snagged four catches for 67 yards with Adam Rammel adding 61 yards on three catches.
Jared Cox had two catches for 68 yards for the Cardinals. Spencer Rohr added 47 yards on four snags.
Coldwater will find out officially who they will face in Week 11 at Cavalier Stadium on Sunday.