Saturday, October 4th, 2008
Coldwater stretches its streak versus St. Henry to a dozen straight wins
By Gary R. Rasberry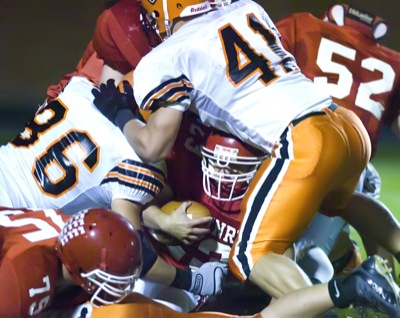 ST. HENRY - After a scoreless first quarter, St. Henry looked to gain an advantage when it scored the first points of the game against Coldwater in the annual Backyard Battle.
Instead of St. Henry gaining an advantage, the touchdown just seemed to sound the alarm bell for the Cavaliers.
Coldwater followed St. Henry's scoring drive with one of its own, then added four more touchdowns while shutting down the Redskins to win the 12th straight game in the rivalry with a 34-7 win at the Wally Post Athletic Complex.
The win moves the Cavaliers, the top team in the state for Division IV, to 7-0 overall and 5-0 in the Midwest Athletic Conference. St. Henry, after opening up 4-0, drops its third straight against state-ranked teams to go to 4-3 on the season and 2-3 in MAC play.
The contest started out as a defensive struggle as Coldwater punted on four of its first five series and suffered a turnover when Cory Klenke was picked off by Nick Rindler on the second drive of the game. Coldwater's defense, which has not allowed an opponent to score an offensive score in the first half this season, recovered a fumble on St. Henry's first drive and made Victor Fortkamp punt the next three.
The Redskins finally made a breakthrough with 11 minutes to go in the first half, going on a seven-play drive covering 59 yards, with Brad Stahl finding Shawn Dues in the end zone with eight minutes left to give St. Henry a 7-0 lead after Jon Speck's PAT. It was the first points the Cavaliers' first-team defense had given up all year.
But instead of going into a panic, Coldwater's offense went to its usual tactic, a quick score to steal the momentum. Klenke drove the Cavaliers 71 yards on seven plays, completing 3-of-4 passes to get the Cavs to the Redskins' one-yard line, where Tony Harlamert added his 11th rushing TD of the season on a one-yard burst with 6:08 left.
After the Redskins went three-and-out, Coldwater put together an eight-play drive spanning 68 yards. This time, Klenke went to the air for six, finding Zach Kaup for a 12-yard score with 2:22 left in the half to make it 14-7.
"Maybe it was kind of a wakeup call," said Coldwater coach John Reed. "We realized we had to answer their challenge, because they really kicked us to begin with."
"We probably played as well as we could for a half defensively," said St. Henry coach Jeff Starkey. "Our kids were ready to play and were prepared to play."
St. Henry looked ready to come back in the third quarter after Klenke was picked off again, this time by Caleb Stammen. On a second-and-11 from the Redskin 27, Stahl hooked up with Neil Schwieterman for an eight-yard gain.
Zach Siefring, however, wanted the ball badly, stripping Schwieterman before he went down, catching the ball in the air and returning it 35 yards for the fumble-return score to make it 21-7.
"That put us up two scores," said Reed. "That really was a big play."
The play seemed to take the wind of the Redskins' sails, as St. Henry punted on its next three possessions. Coldwater, on the otherhand, put the final nails in the casket. Harlamert powered in from four yards out to make it 28-7, then Siefring was rewarded for his defensive score with a six-yard touchdown pass from Klenke to wrap up the scoring.
"Our kids came out in the third quarter, had a good three-and-out, punt the ball then get the ball back and turn it over," said Starkey. "Those type of momentum swings can really be the difference. We just never got ourselves collected after that."
Both coaches were quick to praise their opponent.
"St. Henry played with great passion, didn't they?" said Reed. "Really, you can tell they had so much riding on this game. It was real important to them. They came out and played really, really hard. I think they have in every game. They did against Marion, did against Anna and certainly did against us."
"Their defense is great," said Starkey. "When we watched film on them, I thought that was probably the best defensive team we've played since I've been here."
The Cavaliers held St. Henry to just 167 yards of offense, 52 rushing, while compiling 361 yards of offense.
Klenke was 16-of-26 passing for 237 yards. Kaup was a favorite receiver, snagging four catches for 106 yards. Harlamert had six catches for 68 yards and added 33 yards rushing.
Stahl was 12-of-25 passing for 115 yards while Jordan Post had four catches for 61 yards.
Coldwater returns to Cavalier Stadium Friday, hosting St. John's. St. Henry will look to snap its losing streak, traveling to Fort Recovery.