Monday, November 3rd, 2008
Celina volleyball falls one win shy of its goal
By Ryan Hines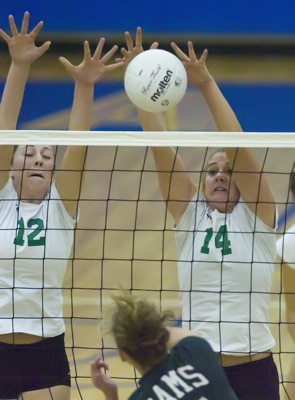 ONTARIO - The Celina volleyball team matched the deepest postseason run in school history, but the Bulldogs finished one game shy of reaching their ultimate goal.
Celina, playing in its second regional final in school history, ran into a strong Mansfield Madison team at Ontario High School on Saturday and the Rams ended the Bulldogs' season with a 25-22, 16-25, 25-16 and 25-18 victory.
"It's very disappointing for all of us, because we know that we didn't play up to our potential," said Celina head coach Carolyn Dammeyer. "They (Madison) looked like a better team today than what we saw from them on Wednesday (in the semifinal) and they came out fired up. Our girls accomplished all of their goals for this season except for one and we missed it by one game. That's a great season."
Madison (26-2) advances to its fourth state tournament and will face Parma Padua Franciscan (24-3) in the Division II semifinal at noon on Thursday at the Ervin J. Nutter Center. Columbus Hartley (22-5) and Kettering Alter (19-7) make up the other D-II semifinal, which will be played at 2 p.m. on Thursday.
In order for Celina to reach its first state tournament, head coach Carolyn Dammeyer knew her Bulldogs would have to play well to beat Madison and that didn't happen.
Defense and serve reception have been the two biggest strengths for Celina all season, but Madison made those two areas appear to be weaknesses.
In addition to an uncharacteristic 30 errors, many of them unforced, Celina had trouble slowing Madison's strong hitters and the Rams aced the Bulldogs seven times.
"Two of our strongest points all season have been our defense and serve reception. We just really struggled in those two areas and we weren't hitting the ball the way that we were capable of either," said Dammeyer. "They were a good serving team, probably one of the two best that we played against all year. Our defense just wasn't there consistently and they did a good job of finding weaknesses that we didn't know we had. We didn't get the ball to the setter the way that we needed to and our communication was off."
With a boisterous crowd backing them, the Rams led most of game one, but the Bulldogs gave Madison a scare at the midway point as back-to-back kills by Julie Klosterman and Erin Dorsten gave Celina a 14-13 lead.
It was back and forth all the way to a 21-21 tie, but Madison called timeout and the Rams came out of the quick break and dominated down the stretch. A trio of kills by Madison's Jackie Schwamberger along with a Celina net violation gave the Rams a 25-22 win.
Other than a 1-0 Madison start, Celina led the rest of the way in game two thanks in large part to its balanced hitting attack. Klosterman had four kills, Maria Dorsten had three kills to go along with a couple of aces and the middle-hitting duo of Cenzie Yoder and Erin Dorsten combined for four kills and two blocks to lead the Bulldogs' charge.
Maria Dorsten helped turn a 4-4 tie, with a kill and an ace, into a 9-4 advantage and the lead never dipped lower than three before an impressive 25-16 game-two win.
Celina put up a tough fight early in game three, but Madison's Lauren Townley and Ashley Gailbraith provided some strong net play to push the Rams out front. Madison was nursing a 9-8 lead when Townley and Gailbraith combined for three kills and two blocks to help provide the Rams a 15-8 lead.
Madison's lead ballooned to as much as 12 points before settling for the 25-16 game-three victory.
The Rams led wire-to-wire in game four but it wasn't until a four-point streak made it 19-14 that Madison fans could finally relax a bit. A kill by Klosterman and a Yoder ace closed it to 19-17, but the serving of Madison's Emilee Muzechuk and three more thunderous kills and a block from Schwamberger were too much to handle as the Rams rolled to a 25-18 match-clinching win.
"We came out ready to play, but things didn't go our way and we weren't playing up to our potential. We had a lot of errors on our side and just did things that aren't typical of us," said senior libero Audrey Harner. "Today just wasn't our day."
Harner and Kelsey Waterman were more than disappointed following the loss to Madison, but it was a season to remember for the two Celina seniors.
"The reason that we got to this point is because we came together as a team this year and really gelled on the court and off the court," said Waterman.
"It's pretty hard to accept that the season is over at this point, because we set a goal of getting to state and we fell one game short," said Harner. "Still, we had a great season that had a lot of good times that we will remember forever."
Dammeyer reminded the team after the trophy presentation in the locker room that it was a historic season for the volleyball program.
"I told the girls that they have nothing to be ashamed of. They had a great season, making it as far in the tournament as any other team in school history, and they have got to be proud of that," said Dammeyer. "We won the league title and did it by winning every match in three games and we beat some teams that we haven't beaten for a while."
Madison will be making its fourth trip (1993, 1997, 1998, 2008) to the state final four next week, looking for its second championship (1997).
With both teams losing just two seniors, who knows, a regional rematch next year may be very realistic.