Saturday, November 8th, 2008
Teamwork a big key for Flyers coaches
By Randy Bruns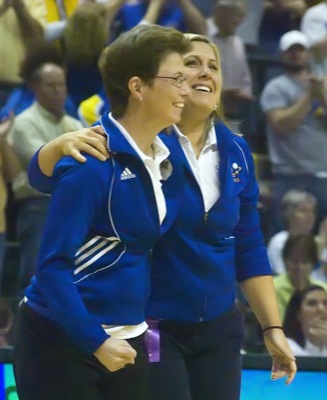 FAIRBORN - The Marion Local Flyers are once again headed to the Division IV state volleyball finals, and though there is plenty of talent up and down the roster, the Flyers also have a pair of formidable coaches on the sideline.
Head coach Amy Steininger, currently in her sixth year as Flyer pilot, is simply carrying on the tradition of Mary Lou "Shorty" Bruns, who was at the helm for eight years and took Marion to state in 2000 and 2002.
Now for the second straight year, the two are together on the Marion sideline and the joint venture couldn't have turned out better.
Bruns hung up her whistle after the 2002 campaign, which was the school's most successful ever after just falling short in the state finals. Steininger's appointment to the position was a natural transition, as she was already well acquainted with the goings-on in Maria Stein.
"I was an assistant coach at Vandalia Butler for five years, but I had been living in St. Marys and driving an hour each way and it was getting to be tiring," said Steininger. "Then I heard that the Marion job had opened up and I was friends with Mary Lou because I had coached some of her players in club volleyball.
"I was very familiar with Marion volleyball and had watched them twice at state, and I thought it was the perfect opportunity. It was close to home, and they play in the Midwest Athletic Conference, which is just an exciting level of volleyball. I was just thrilled to get the job and I can't imagine a better job."
The job got even better when Bruns volunteered to come on board as an assistant prior to the 2007 season.
"I don't know many teams that have a former successful head coach of eight years that has taken teams to state on their bench as a volunteer assistant," said Steininger. "We are so lucky to have her, and I can't even imagine what it was like to coach without her. She's such a good friend and we talk volleyball all the time. The relationship is so special to me and what she does with the girls is just amazing."
As for herself, Bruns is content to stay in the shadows while Steininger tackles the day-to-day rigors of being the head coach.
"One thing about head coaching is that there's a lot of paperwork involved, and I just don't have the time to fully devote to everything," said Bruns. "I just really enjoy what I'm doing right now and helping out wherever I can."
According to both coaches, there haven't been any struggles when it comes to who calls the shots.
"One thing about Amy is her intensity," said Bruns. "Even in practice it's there all the time. She doesn't have a problem correcting me and I don't have a problem giving my thoughts on what we should maybe be trying to do. There is some give and take, but everybody knows who is in charge."
For her part, Steininger is thrilled to have somebody as focused on the team as she is.
"Last November, after we had won state, she was outside raking leaves and I called and asked her 'What are you doing, Shorty?' and she said 'Oh, just thinking about next year'", said Steininger with a laugh. "It was November, and she was thinking about next season already. That's just the heart that she has and she just gives so much to this program."